If your upholstered furniture is feeling a bit worn, but you aren't ready to invest in reupholstery, painting can be a easy, budget-friendly way to bring new life to tired fabric. Jolie Paint makes it simple to update fabrics and upholstered items to work within your space. Before beginning your project, there are a few things you'll want to consider to ensure you end up with beautiful results. Read on for our best upholstery painting tips as well as some project examples from the Jolie Community.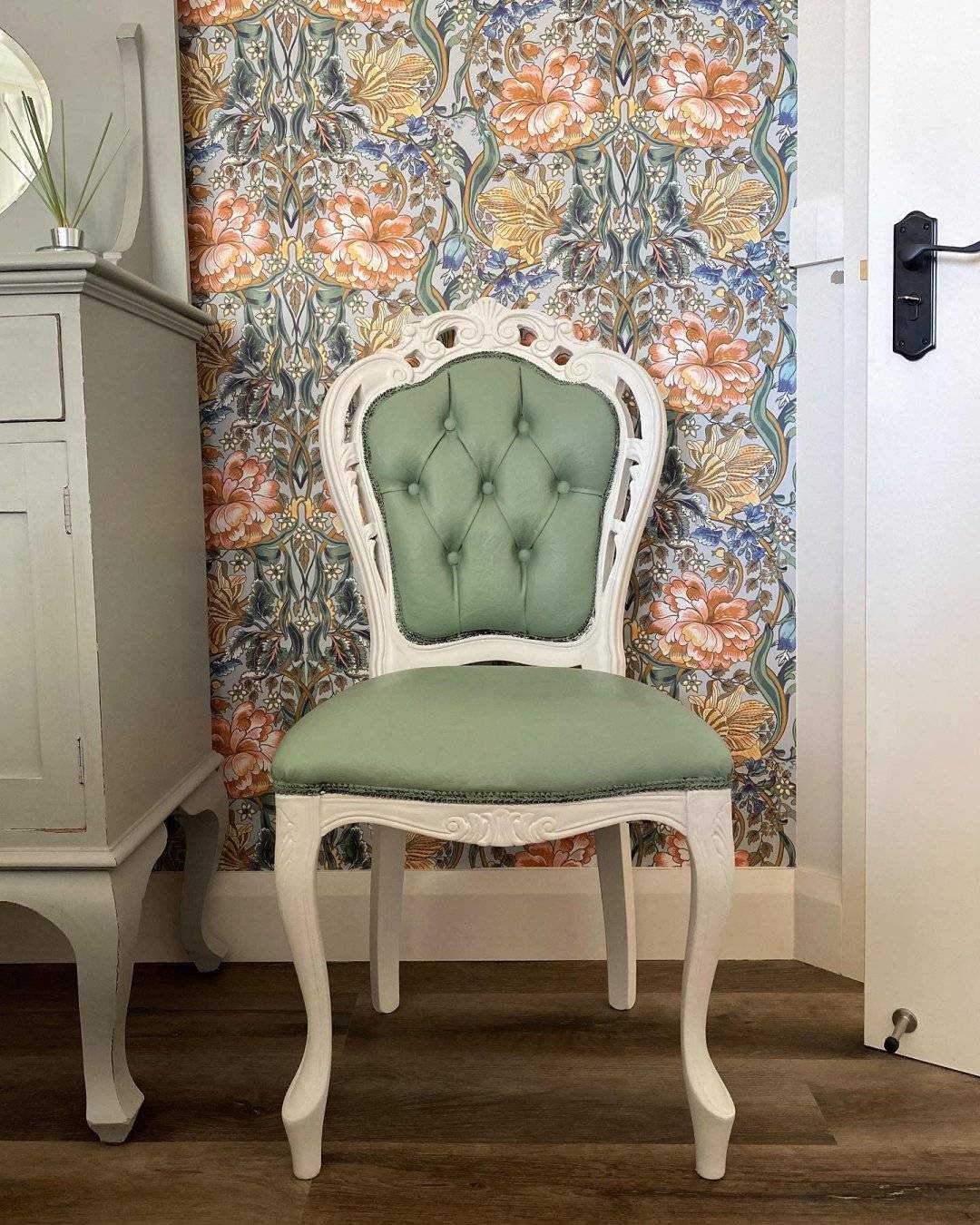 Before beginning your project, it's important to consider the type of fabric you want to paint. Items upholstered in leather or natural fabrics, such as linen or cotton, are the best candidates for painting, as these materials tend to accept the paint more evenly and produce better, more natural looking results than synthetic fabrics.
Some synthetic materials, like vinyl, can also be painted, so if you are unsure what type of fabric you're working with, or you know that your furniture is upholstered in a synthetic material, we recommend doing a test spot if possible.
In addition to the type of fabric, it's also important to consider the furniture style before painting. Items where the fabric is pulled taut tend to hold up better than items with more give. For example, a cushy leather sofa likely won't hold up as well as a dining chair with a firm seat. You can also expect any existing cracks or creases in leathers or other materials to still be visible even when paint is applied.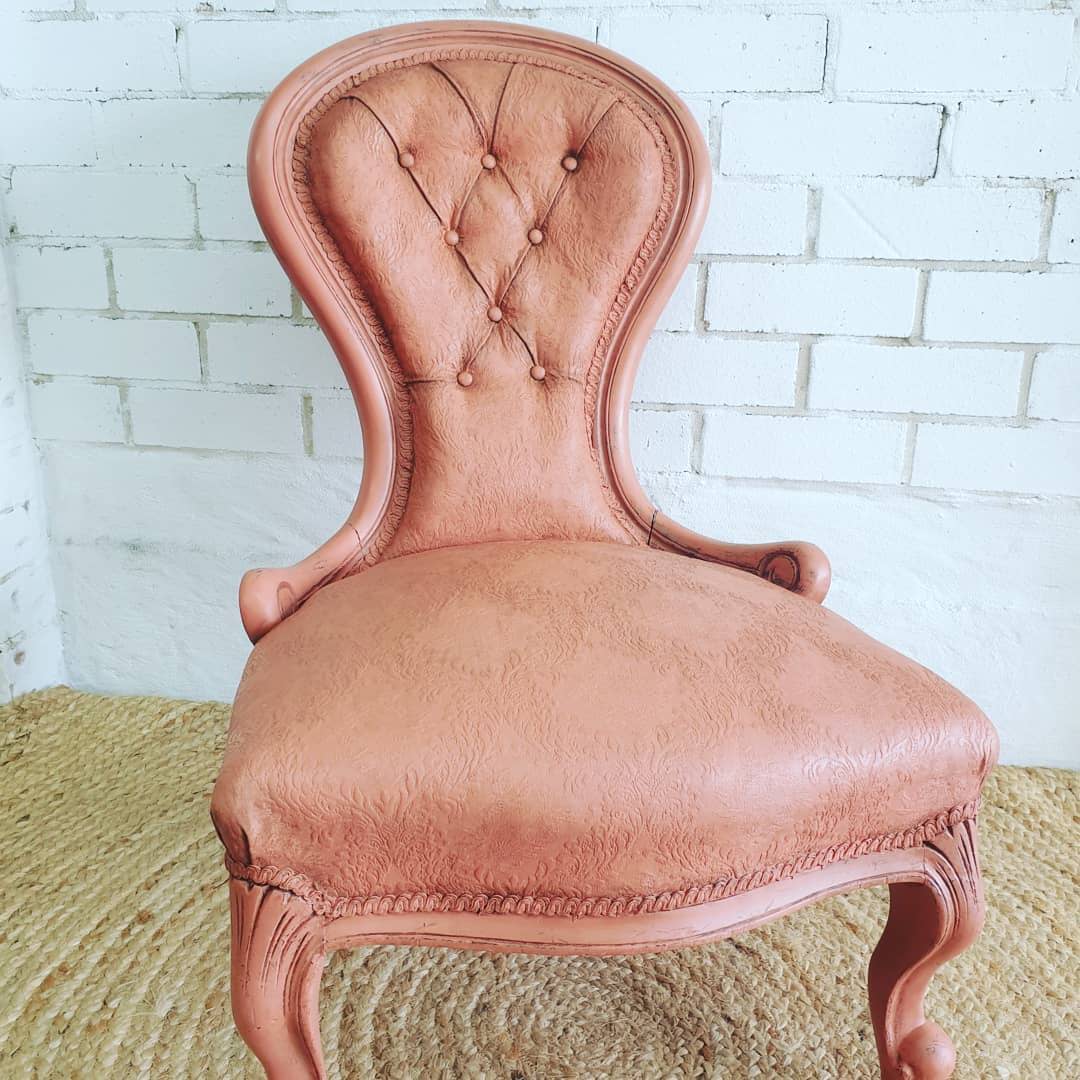 When you're ready to paint, use painters tape to tape off the frame of your furniture. You can also keep a wet cloth on hand to quickly wipe up any drips.
When working with soft, porous fabrics, like linens or cotton, we recommend mixing around 40% water to 60% Jolie Paint in a separate mixing container. You'll want to apply the paint in very thin layers, allowing it to absorb into the fabric almost like a dye. Let each coat dry completely (overnight if possible), then sand gently before applying the next coat. While you may be tempted to rush through your project, taking the time to work this way helps prevent the paint from forming a crust, which can feel stiff and may crack when weight is applied.
If painting leather, you can add less water for fuller coverage, however, you'll still want to work in thin coats, sanding between each one to ensure the paint remains flexible.
For quick and easy application, we prefer to use a Jolie Signature Brush since it's compressed oval shape holds a lot of paint, allowing you to work more quickly while providing fuller coverage. You'll want to work your brush in all directions, focusing on getting the paint to seep into the texture of the fabric. You may find that holding your brush vertically and using a stippling motion can help you get into any tight folds, welts, or hard to reach areas.
As your paint begins to dry, you may notice that it will begin to look more translucent or uneven. This is normal, and the finish will even out with additional coats. Keep in mind, if you are painting a lighter color than the existing fabric, it may take more coats than if you are going from light to dark.
When painting upholstery, you also have the opportunity to have fun with stencils, design transfer, and even free-hand designs. When stenciling with Jolie Paint, be sure to use it at full strength (don't add water) and off-load some paint from your brush so that it doesn't end up bleeding outside of the intended area.
A topcoat is not required, however, if you wish to seal your painted finish, Jolie Finishing Wax can be used to give the upholstery a leather-like feel.
In addition to upholstered pieces, Jolie Paint is great for transforming fabric on non-furniture items. Check out our post on Dyeing Fabric with Jolie Paint for more info.
---