When our co-founder and creative director, Lisa Rickert, began designing her kids' playroom, she turned to Jolie products to help her create a modern, coastal inspired space that is fun, yet functional enough for the entire family to enjoy. Using a neutral color palette, Lisa updated a number of furniture items in the space to help her complete the look. Read on for all of the details on what went into designing the space, along with tips for recreating the look in your own home.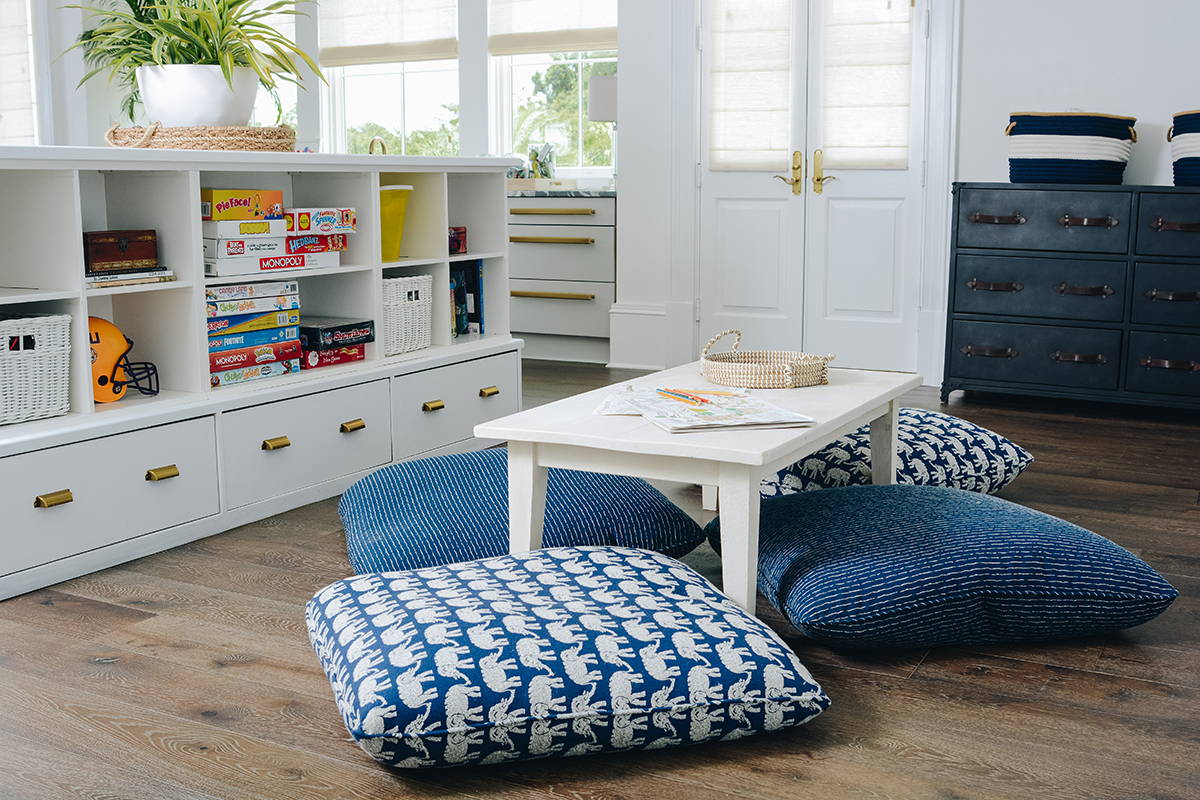 "Our house is on the lakefront, so I tried to incorporate as many coastal elements into the space as I could," Lisa said of the project. "We have two children, a boy and a girl, so I wanted to keep the palette more neutral to work with both of their styles. I decided on a Classic Navy and Palace White color scheme that I used on the painted furnishing and textiles. I also introduced Uptown Ecru, embellished with White Finishing Wax, on shelving and a small play table to complement the nautical theme with the color of sandy beaches."
At one end of the space, Lisa designed a seating area for the family to watch movies, play video games, and relax. In an effort to add a bit of fun and interest to the Scandinavian style sideboard, she painted the outer frame Classic Navy, creating a color block look that contrasts nicely with the warm chestnut wood stain. Lisa applied the paint in a Basic Finish for an easy, hand-painted look. "Classic Navy is a color that shows some highs and lows, so the random brush strokes of the Basic Finish give it a beautiful clouded, suede effect," she said.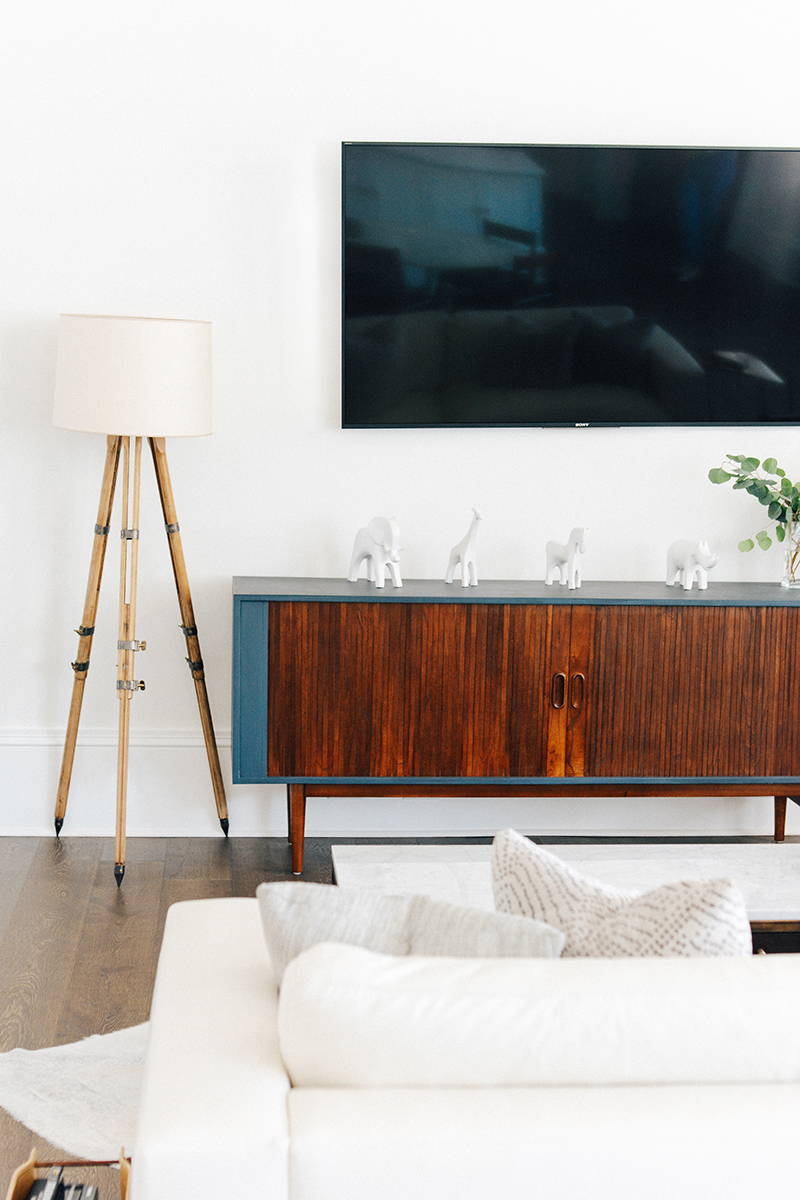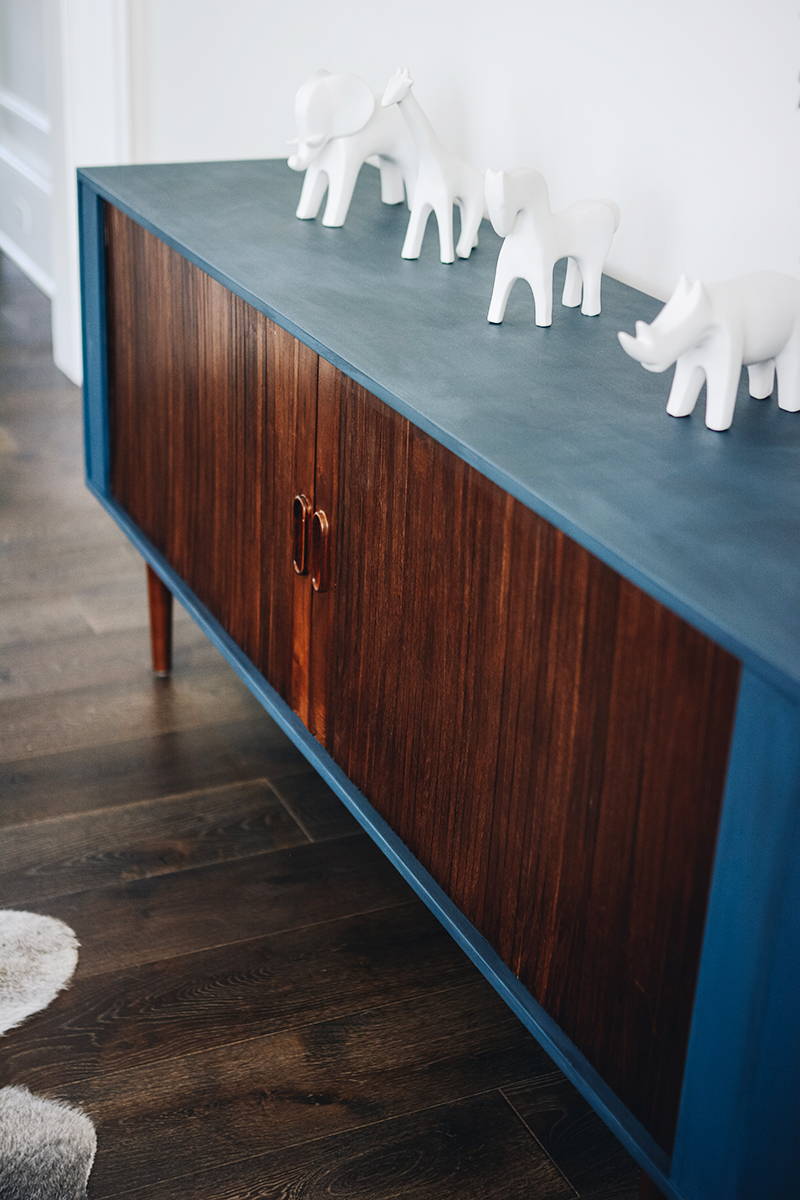 The same color and technique was used on a pair of leather sling-style lounge chairs, except these were embellished with a racing strip down the arms to give them a playful and whimsical feel. "It is really easy to create color patterns with your pieces by using stencils or simple painters tape," said Lisa. "This technique is especially fun to do in kids rooms or creative spaces where you want to have a bit more fun with your finishes."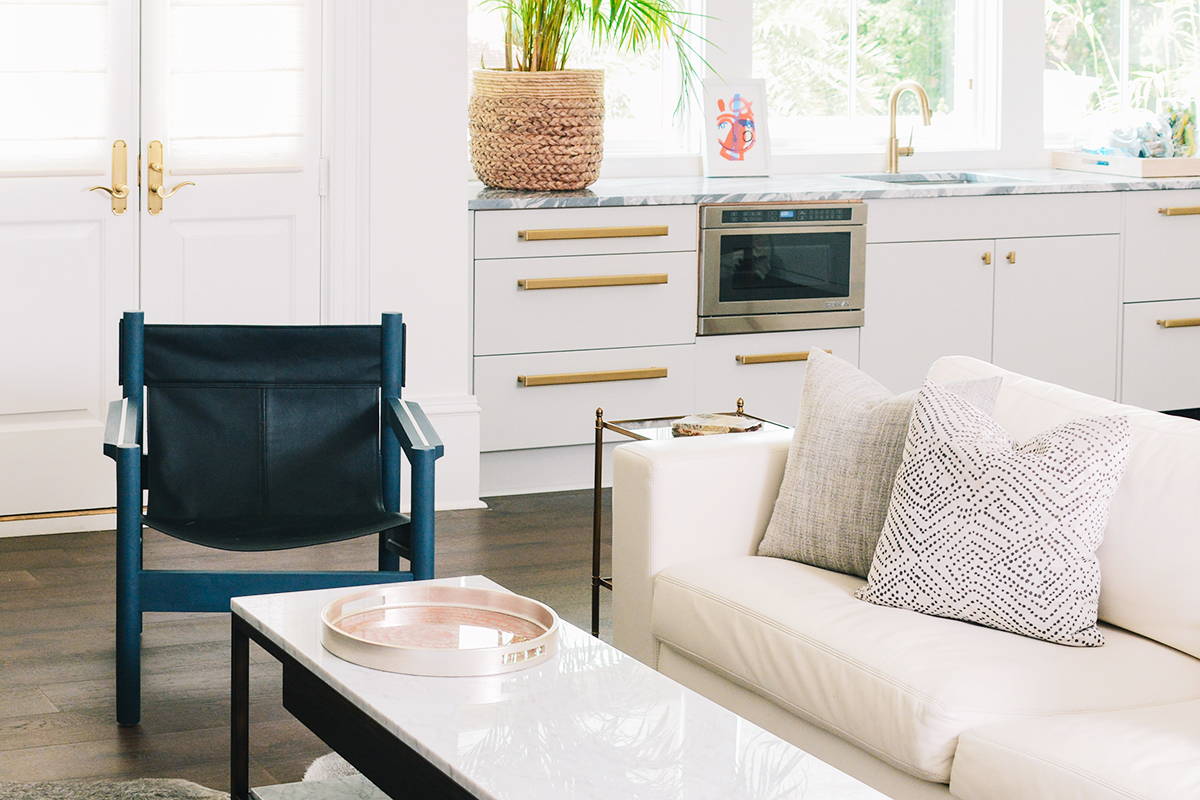 To create a patterned design on your furniture, Lisa recommends the following steps:
Paint 2 coats of Jolie Paint in the base color you choose (this will be the predominate color of your piece)

Allow paint to dry over night

Apply painters tape to define the outer edges of your pattern. Make sure to press tape securely on to surface to prevent any bleed of your second color.

Apply two thin coats of Jolie Paint in you accent color, allowing the first to dry completely. Be sure to not paint beyond your painters tape. Also, load only a small amount of paint on your brush at a time to reduce the likelihood of it bleeding under the tape.

Gently remove the tape while the second coat is still wet. Allow to dry completely.

Apply two thin coats of Clear Finishing Wax with 8 hours dry time in between. Be sure to wipe off excess with a lint free cloth after each coat.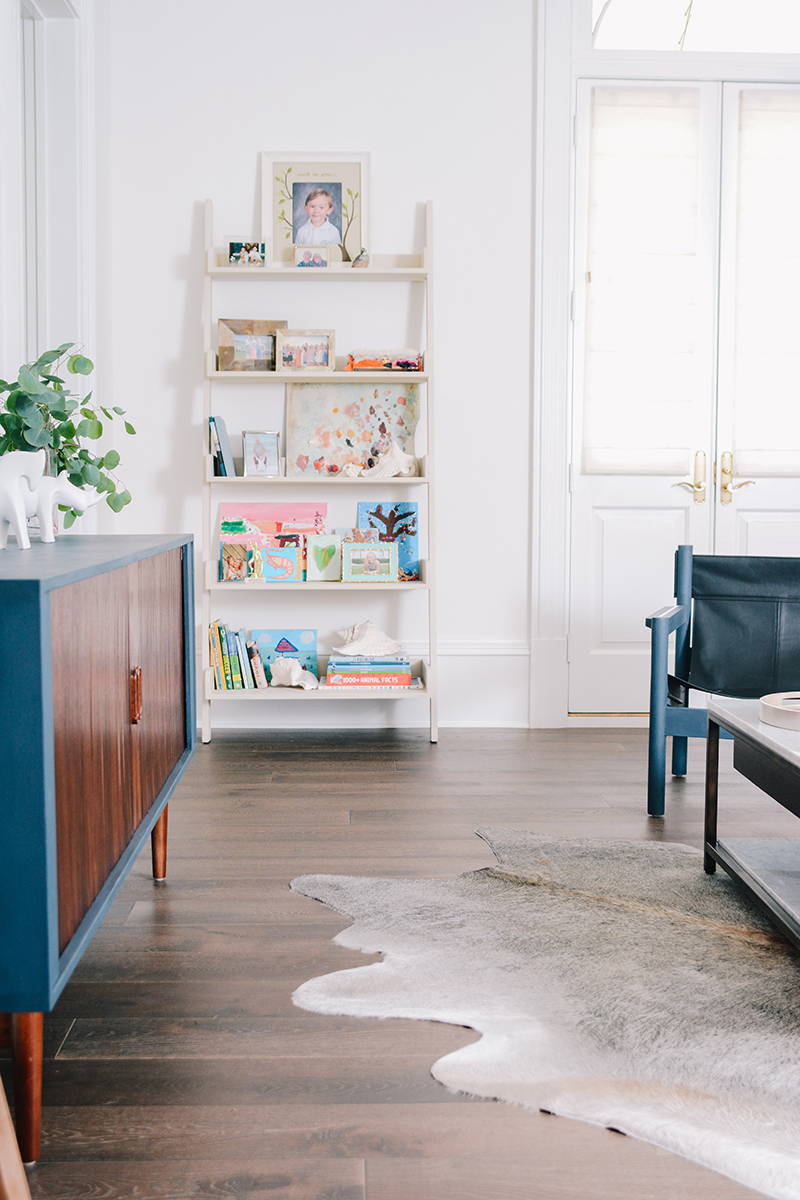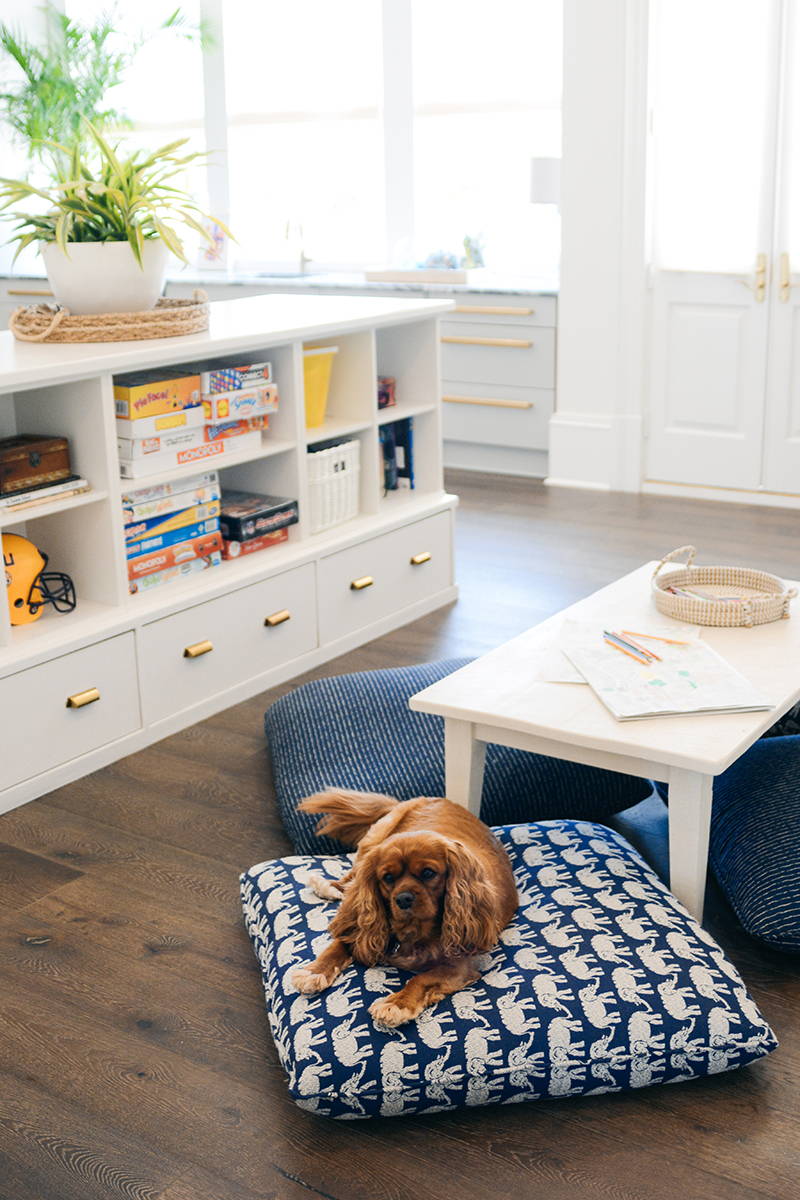 Finally, Lisa updated a ladder-style bookshelf and wooden coffee table using Jolie Paint in Uptown Ecru. She once again applied a Basic Finish, this time opting to seal both pieces with White Finishing Wax to create a casual, white-washed look that works well with the coastal theme. Printed floor pillows around the coffee table create a cozy space for the kids to play or work on homework, while the bookshelf serves as the perfect spot to hold books and school art projects.
For more design and paint project inspiration, visit our Inspiration Page.
---