It's no secret that installing new tile can be a big project, meaning it often gets bumped to the bottom of home project lists. However, just because you aren't ready to splurge on brand new tile, doesn't mean you have to settle for a look that feels outdated. Painting tile is an easy, low-cost way of transforming most tile surfaces to create a look that's more in line with the rest of your space. Below, we've outlined tips and step-by-step instructions for prepping and painting a variety of tile surfaces with Jolie products to ensure you have a successful project.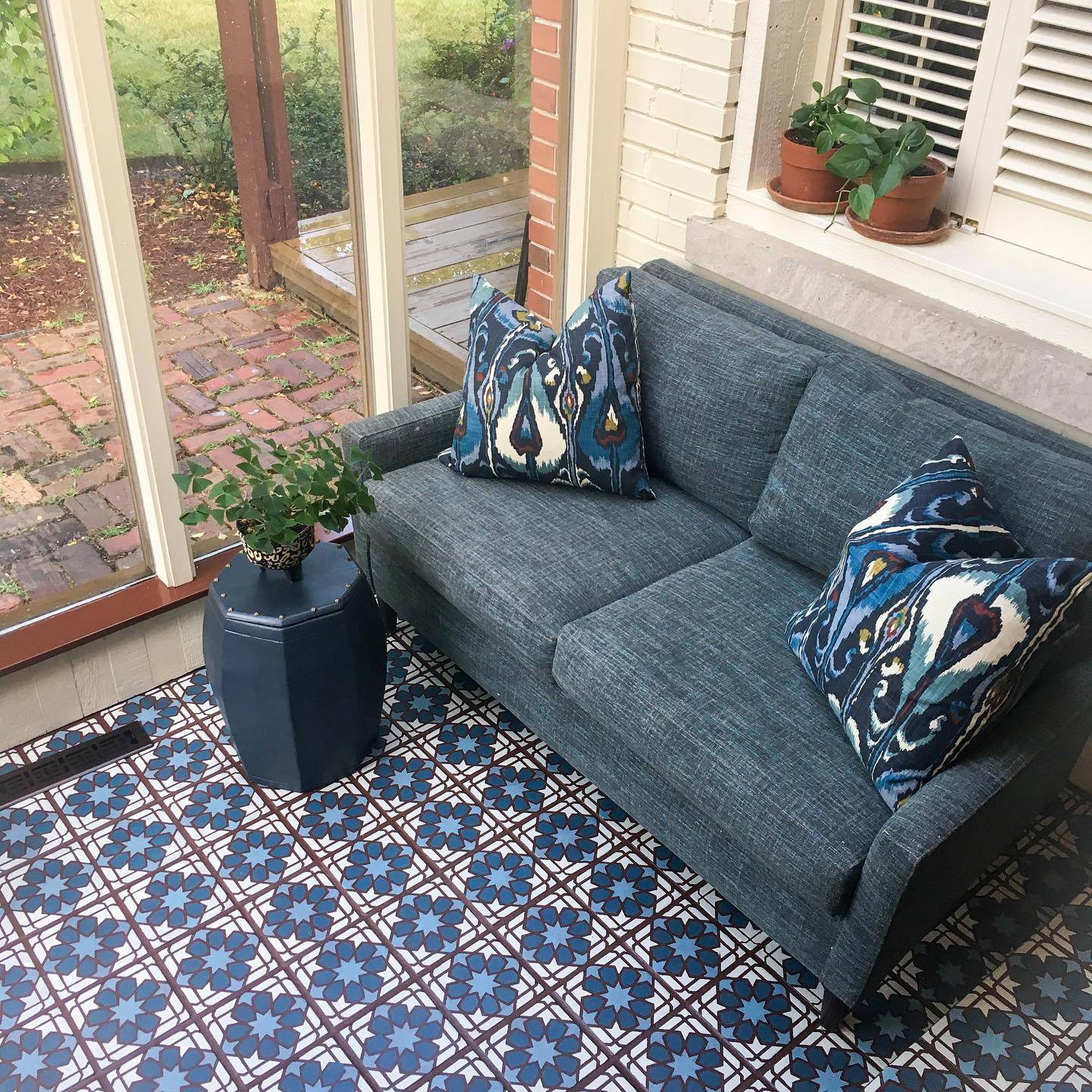 AFTER
| Floors painted with Jolie Paint
Step 1: Know Your Surface
Before beginning any tile painting project, it's important to understand whether your tile will accept paint and how your finish will hold up over time. Painting tile is a great option if you're looking for a short term solution, perhaps for a bathroom or kitchen that you plan to eventually renovate. However, not all tile is created equal, and while some surfaces will hold up well for many years, others may show wear and tear more quickly.
Paint adhere best to matte, unsealed tile, preferably with a little bit of texture. Vinyl tiles or flooring also accept paint well. If this is what is currently installed in your home, then it's likely a good candidate for painting. However, if you have tile with a super shiny or smooth, sealed surface, you're going to want to proceed with caution. Most shiny tiles can still be painted with a bit of extra prep, but it may wear more quickly than matte surfaces, particularly if the tile is located on floors in high traffic areas. If this sounds like your tile, you'll want to adjust your expectations and know that it may need to be repainted or replaced eventually.
Note: If you're planning on painting tile around your fireplace, we recommend checking your local building codes to confirm if there are any restrictions on painting near a firebox.
AFTER
| Vinyl floor painted Palace White and Verdigris
Step 2: Choose a Color and Finish
Floor tiles are typically shaded or textured, using multiple colors to create depth, and more importantly, hide dirt. If you choose a single color for a floor project, you may want to select a mid-tone neutral (not too light, not too dark) so that every spec of dirt doesn't become visible. Some of our favorite Jolie Paint colors for floors include: Cocoa, Linen, French Grey, Swedish Grey, Legacy and Sage. If painting tile on your walls, you'll have a bit more flexibility to choose from the full Jolie Color Range.
If you want to highlight any texture that is currently on your tile, layering 2-3 colors to create a Washed or Dry Brushed finish is a great way to give your surface some depth or even create a stone-like like effect, just be sure the finish you choose can be easily replicated on each tile.
Tile also presents a great opportunity to have some fun with stencils or patterned designs. We recommend searching on Pinterest for patterned tile inspiration.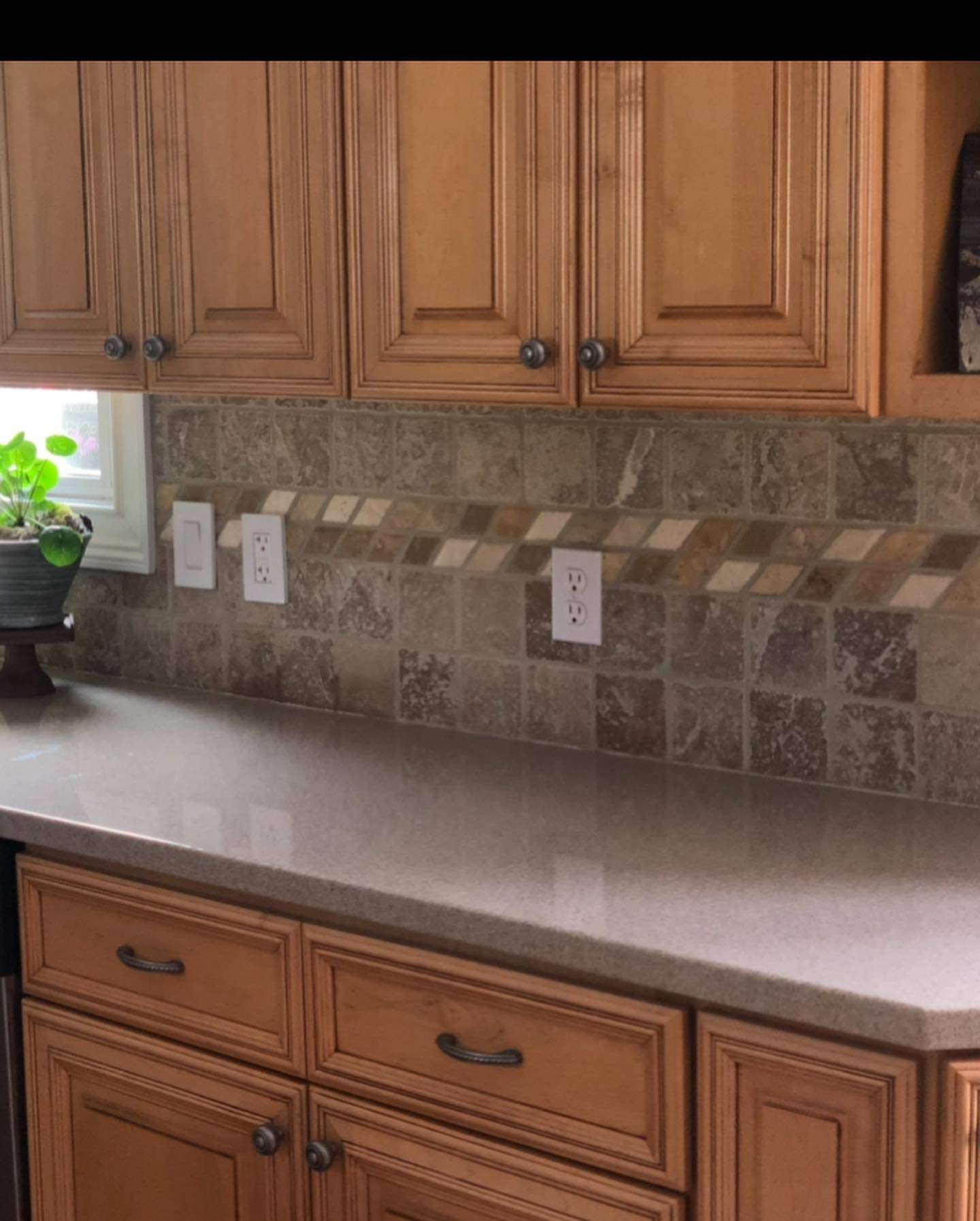 BEFORE
|
Photos via Donya Waggoner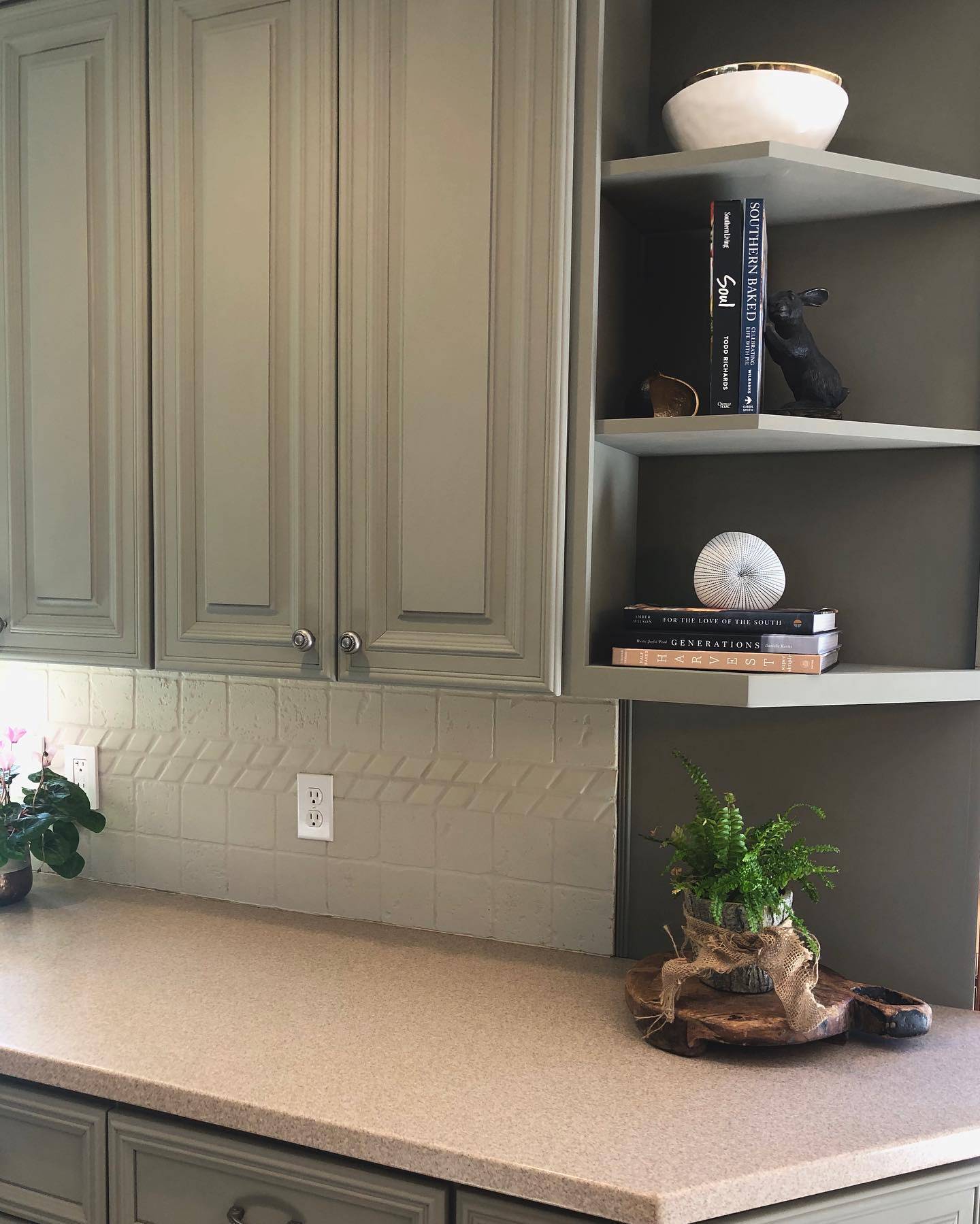 AFTER
| Backsplash painted in Swedish Grey | Custom Mix of Sage and Linen on Cabinets
Step 3: Surface Prep
Begin by cleaning your surface well with a biodegradable cleaner. Pay special attention to floors or surfaces in high traffic areas, especially bathrooms or kitchens, where there may be extra dirt and grime buildup. After cleaning, rinse your surface well to remove any cleaning product residue.
If the tile you are painting is shiny, sand the surface with 150 grit sand paper. The goal here is to scratch up the surface, which helps to create mechanical tension and allows the paint adhere better. After sanding, clean up any remaining dust or debris.
Tape off any molding, appliances, or areas that you will be painting around.
Step 4: Paint
Because Jolie Paint has such great adhesion, it does not require a primer, so you can proceed straight to your first coat of paint. For larger areas, we recommend using a low to medium napped roller, depending on the texture of your floor. A Jolie Flat Brush can be used to cut in on the edges and remove any pooling of paint in your grout lines.
You'll want to begin painting at the far end of the room, working your way towards the door. Be sure to start by cutting in the edges of the space, then use your roller to fill in center. Allow the first coat of paint to dry for 24 hours to give the paint time to begin curing and ensure proper adhesion.
Following the same steps above, apply your second coat of paint and allow to dry for 8 hours. Most Jolie Paint colors will cover with only two coats, but if needed, repeat steps to apply a third coat or your patterned design.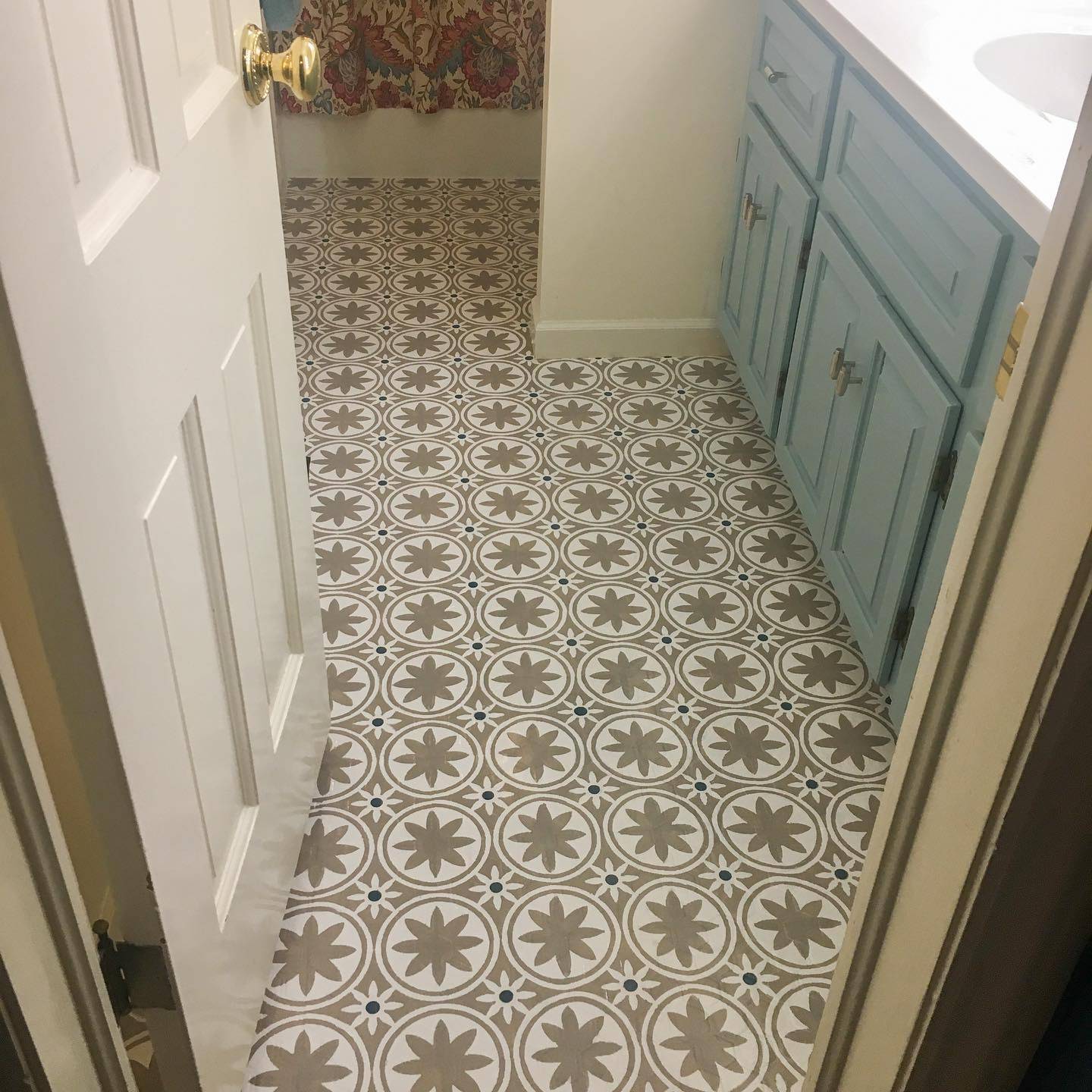 Step 5: Topcoat
The topcoat you use will depend on the type of project you are doing:
FOR FLOORS: Jolie Floor Varnish is a great option for most floor projects. It provides a durable, satin finish that will hold up well to wear and tear. However, if painting in an area that will regularly be exposed to standing water, such as an outdoor area or heavily used bathroom, you may want to go with a water-proof sealer.
FOR WALLS & BACKSPLASHES: We recommend sealing backsplashes with Jolie Varnish in Gloss or Low-Luster. Wall tiles can also be left unsealed if they are in a more low-traffic area.
FOR FIREPLACES: If tile around the fireplace is going to be exposed to heat, we recommend leaving the paint unsealed (be sure to check local building codes before painting around a fireplace). If tile is far enough away from the firebox that it does not experience high temperatures, Jolie Varnish or Finishing Wax can be used.
Did this post inspire you to tackle a project of your own? Share photos of your progress with us by tagging #JolieByMe on Instagram or Facebook for a chance to be featured on our site and social channels.
---