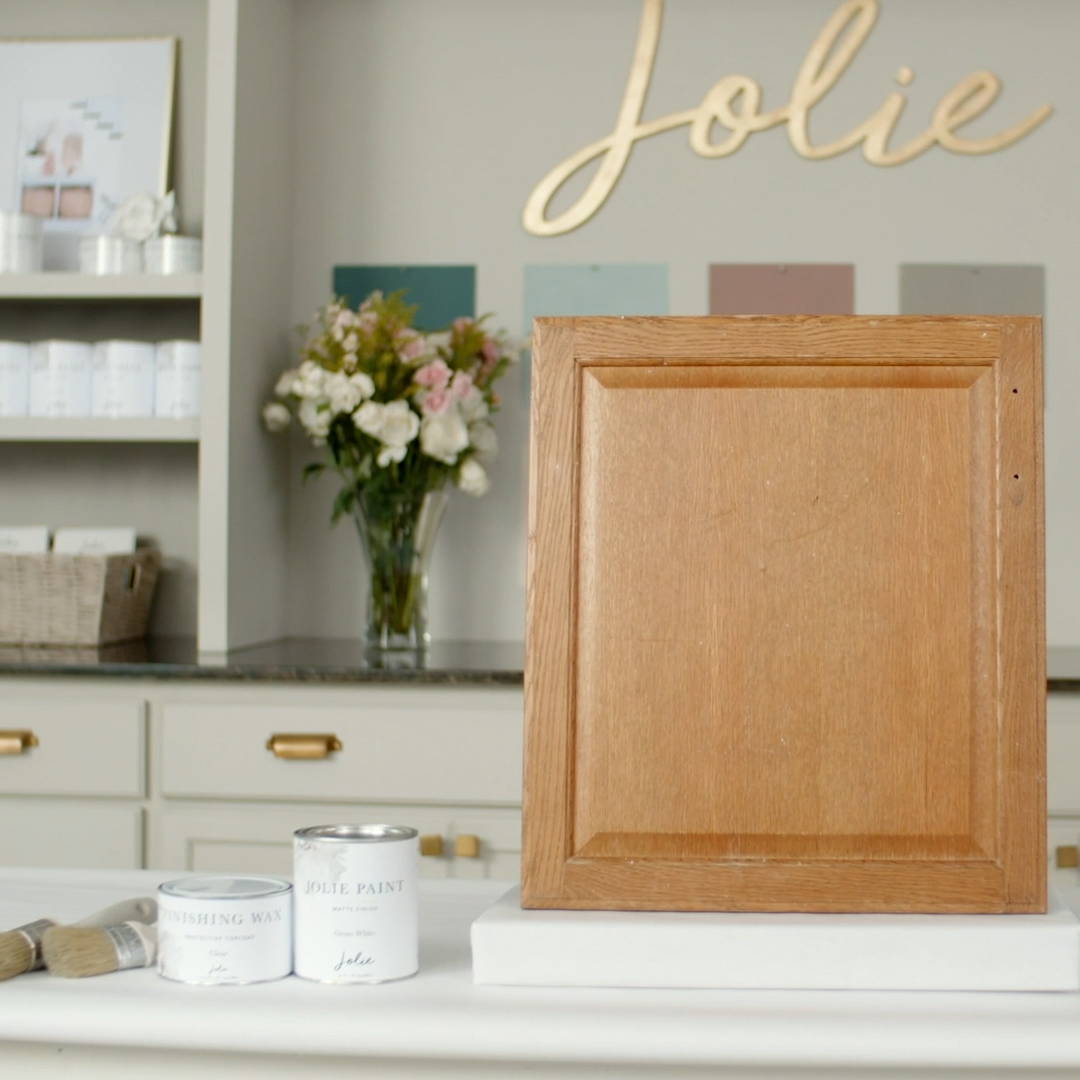 So you've decided you want to paint your kitchen cabinets. Chances are, you probably have some questions you'd like answered before you begin. Lucky for you, we answer questions about painting cabinets all day long, and we've compiled some of the most commonly asked questions and their answers below.
Painting your cabinetry can be a fast and affordable way to create a fresh new look or add your personality to your home. Because cabinets are usually one of the larger focal features in any home, we have developed the Jolie Cabinet Guide to ensure that you achieve a successful and stress-free paint transformation.
While this post will give a cabinet painting overview and answer some commonly asked questions, we recommend downloading the Cabinet Guide and reading it in full before beginning your project. The guide offers detailed step-by-step instructions and additional information that won't be covered in this post.
---
How do I know what type of cabinets I have?
Identifying the type of cabinets you have is an important first step to any cabinet project, as this will determine whether your cabinets should be painted and what type of prep they may require. Some of the most common cabinet materials include:
Solid Wood – will feel solid and heavy with variations in the wood grain. If you notice any seams along edges or repetitive patterns, it's safe to assume the doors are not solid wood. Typically you don't need to sand solid wood unless the surface is super smooth or the wood is unfinished.
Painted, Waxed or Varnished – this includes doors that have been previously finished with Jolie Paint or other paint products. Typically there's no need to sand cabinets that have been previously finished.
Melamine or Laminate – usually have a flat profile and feel like plastic. Flat sheets are glued on top of an MDF base - look for seams along the edges. Lightly sand and allow your first coat of paint to dry for 48 hours.
Thermofoil – often confused with Melamine and Laminate. Thermofoil cabinets have a thin layer of vinyl that is pressed onto the cabinet doors. Thermofoil cabinets are more likely to have beveled edges, whereas laminate/melamine doors are often flat. We do not recommend painting Thermofoil, as it doesn't usually accept paint long-term.
Powder Coated Metal – will have metal doors with a sleek finish. We do not recommend painting powder coated metal.
Note: Your cabinet face frames and side panels (the structures that hold your cabinet doors and drawers) may be a different substrate than the rest of your cabinetry. If this is the case, it is best to treat them like melamine.
Do I need to sand or prime my cabinets?
First let's talk about sanding. As discussed above, some surfaces (not all), such as melamine, laminate, or super sleek woods will benefit from a light sand prior to painting, as it gives the surface some "tooth" and helps the paint adhere better. Keep in mind that you aren't trying to remove the existing finish, just scuff up the surface. Once you sand, apply a single coat of Jolie Paint and let dry for a day or two to allow the paint to begin curing.
You will also need to sand in cases where your old finish is cracking or peeling away. Sand back these areas to remove any loose or peeling paint - if you don't, the finish will continue to peel even after you repaint.
As for priming, some open-grained woods release tannins when painted and cause slight discoloration or stains to bleed through the paint. If you see this occurring, we recommend applying shellac to the surface before applying a second coat of paint. Keep in mind that you might not have to do this on every cabinet – it is best to apply shellac to small areas only as you see discoloration. Discoloration is most likely to happen to mahogany, oak, walnut, pine, areas that have been filled with wood filler, or areas with oils or grease left over from previous use.
TO APPLY SHELLAC: Wearing gloves, dip a rag into your shellac and wipe it over the affected area with a cloth. Allow it to dry according to the manufacturer's instructions and continue painting. Note that spraying shellac does not block stains as well as wiping it on with a cloth.
If using shellac, be sure to check the date stamp on the can, as shellac has a relatively short shelf-life and is not effective if expired. This post provides a good explanation of how to read the label on the can.
What should I use to clean my cabinets before painting?
Cabinet doors and drawers tend to get very dusty, dirty, and grimy over time, so it is important to always clean them thoroughly before painting to avoid adhesion issues. We typically recommend cleaning them before sanding, as sanding can push grime down into the finish and cause problems later on.
A grease cutting dish soap, scrubby sponge and warm water will usually do the trick. You can also use a TSP substitute, such as Krud Kutter, just be sure to rinse with warm water afterwards. It can be helpful to use a toothbrush to get into any grooves or recessed areas.
Do I have to remove the cabinet doors and hardware?
To paint like a professional, we recommend removing your cabinet doors and hardware before painting them. While this does require a bit more work, you'll end up with a more professional looking finish and avoid the drips and missed edges that can come with trying to paint doors that are still hanging. Be sure to stay organized throughout your project so that you can put your space back together when you are done. Refer to the Cabinet Guide for our tips on labeling and storing hardware. You will need a working area to paint your cabinet doors and a place where they can dry flat and undisturbed, so if you only have a small work space, work on one section of your cabinets at a time.
If you prefer to save time, you can leave your cabinet doors in place. Carefully cover all of the hardware with painter's tape. Make sure you have a small Artist Brush on hand to paint places that are more difficult to reach.
How much product do I need to order?
Refer to our guide for Calculating How Much Paint You Need for a Project.
What paint colors do you recommend?
Check out our Tips for Selecting a Kitchen Cabinet Color.
Should I use Finishing Wax or Varnish as a topcoat?
This really comes down to personal preference. Of the two topcoats, Jolie Finishing Wax is going to the be the most forgiving. Because it has a matte finish, it's great at hiding brushstrokes and other imperfections. It can be easily touched up in the event of any scuffs or scratch marks. It is also available in a variety of colors that can be used to achieve different finishes.
On the other hand, Jolie Varnish is going to give you more of a hard-wearing finish that will stand up well to constant cleaning. Varnish is a good option if you want a bit more durability or a higher sheen. Jolie Varnish is available in both Low-Luster and Gloss - keep in mind that a gloss finish will be less forgiving when it comes to brushstrokes, so be sure to check out our tips for Achieving a Smooth Finish.
Note: Although Jolie Varnish is non-yellowing, it can cause a slight color change when applied over Jolie whites that already have yellow undertones, specifically Antique White and Palace White. If you plan to use either of these colors on your kitchen cabinets, we recommend painting a sample board to ensure you are happy with the final color before beginning.
---
We hope you found this Q&A helpful for your cabinet painting journey! As a reminder, please refer to the Jolie Cabinet Guide for additional tips and instructions.
---
Updating Cabinets with Jolie Paint
---