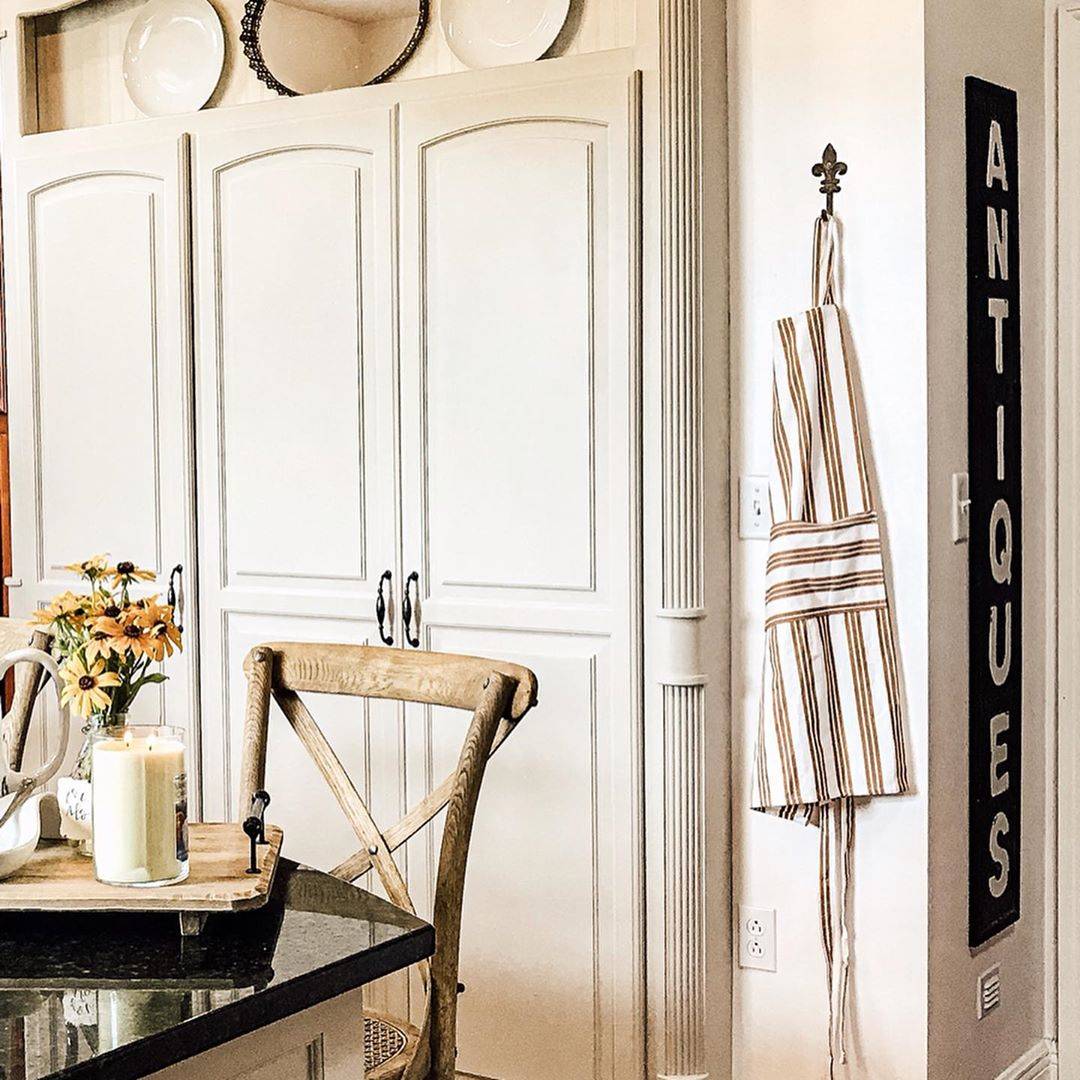 The kitchen is one of the most important rooms in the home. Not only is it where people to tend to gather, it's also where updates can add the most value. Painting cabinetry can be a great way to give a kitchen a fresh new look without spending a fortune, and Jolie products make this process easier than ever.
One question we are asked again and again: "What color should I paint my cabinets?" Painting kitchen cabinetry is a big project, so you want to pick a color that you are going to be comfortable living with for a long time. You should also consider which colors will be the best for resale in the event you decide to sell your home. For these two reasons, we tend to recommend going with more neutral colors. Of course, the kitchen is also a space to be creative, so if you're a person that can't live without color, the kitchen can be a great opportunity to make a bold statement.
We've rounded up some of our go-to colors for kitchen cabinets, along with some of our tips for choosing the best color for your space below. View the full Jolie color range for additional options, or there's always the option to order something custom!
As a reminder, before beginning a cabinet project, we recommend taking a look at our Cabinet Guide, which covers everything from project prep, to paint techniques, to topcoats, and more.
Existing Finishes
When selecting a color, you want to begin by taking into account the hard surfaces in your space that won't be changing. These may include your countertops, backsplash, wall and floor colors. Are these surfaces dark, light, or mid-tone? Are they cool or warm? If your countertops are stone, such as granite or marble, what colors do you see in the shading or veining of the stone? All of these elements can inform your decision about cabinet color.
Typically, you will want your cabinets to offer some contrast from the other elements in the space - tone is important. For example, if your walls and backsplash are a mid-tone grey, you probably don't want to paint your cabinets something too similar. Select a color that is either darker or lighter in order to avoid having all of your surfaces compete with one another.
An exception to the above rule is the bright, all-white kitchen. You can get away with having your cabinets, walls and other hard surfaces all the same bright white. However, this rule doesn't necessarily apply to off-white, as too much of this color can look dated. If most of your hard surfaces are off-white or cream, you may consider a brighter white on your cabinets, such as Pure White or Palace White. The inverse also works: off-white cabinets with bright white surfaces is a classic combination.
Size & Lighting
After taking stock of the existing finishes in your space, consider the size of your kitchen and the amount of natural light it receives. A lighter color on your cabinets is going to give the space a more open, airy feel that can make a small or poorly lit space feel larger. Darker colors, on the other hand, work better in larger, well-lit spaces where you want to create a more dramatic look.
Pick up a Jolie Color Card, Color Mixing Guide, or even a 4oz sample to view color options in person. Be sure to view your samples in the kitchen, and at different times throughout the day, as lighting can have a big effect on how colors appear in a space.
Multiple Colors
Generally, if you have a small kitchen, it's best to stick with a single color on your cabinets, as this will make the space feel larger. Two-toned cabinets, with one color and the bottom and one one of the top, essentially cuts your kitchen in half, which can make a small space feel even smaller.
For larger kitchens where you want to add a secondary color, we recommend painting an island or bottom cabinets that stop at the counter level. Kitchens with full length cabinets (i.e. floor to upper level) aren't always the best candidates for two toned color schemes. If you have several floor to upper-level cabinets, for example, cabinet panels on a refrigerator, utility cabinets, or a pantry door, consider doing a wash or a more tonal finish as opposed to a light/dark pairing.
Updating Hardware
Switching out hardware is another easy way to make a kitchen feel like new. If you aren't able to purchase all new hardware, consider using Jolie Gilding Wax to add metallic highlights to your existing hardware, or paint it a neutral color, such as Noir or Swedish Grey. Keep an eye out for the Jolie Hardware Collection launching Spring 2021!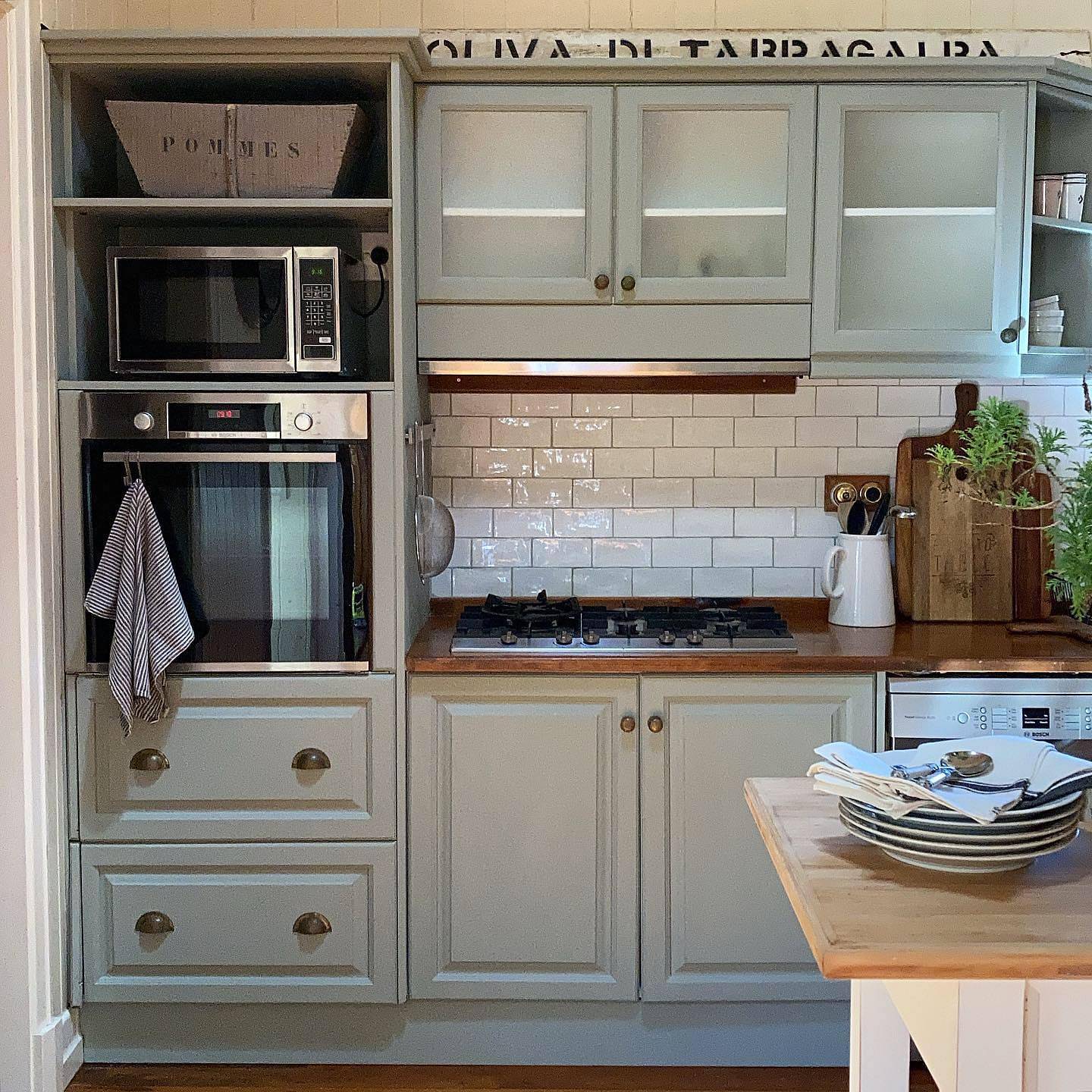 ---
Below we've rounded up our favorite picks for cabinet colors, ranging from light, to mid-tone, to dark. Use Jolie Finishing Wax or Jolie Varnish to seal and protect your finish after you have painted your cabinetry. We recommend keeping your finish fairly simple, as complex finishes with lots of layering or color variation can be difficult to keep consistent across cabinet doors.
---
Are you working on a kitchen update of your own? Share photos of your progress with us by tagging #JolieByMe on Instagram or Facebook for a chance to be featured on our site and social channels.
---