Let's discuss one of the most important steps in the painting process: topcoats. When working with a matte, chalky finish paint like Jolie Paint, applying a topcoat helps to seal and protect your project, giving the surface durability while also allowing you to create beautiful, custom finishes. While you aren't always required to use a topcoat, it is generally recommended for projects in high traffic areas that will be handled regularly such as furniture, cabinetry, and floors.
You have a few options when it comes to topcoats, so it's important to understand the key differences between them to ensure you choose the one that's right for you and your project. Below we'll be comparing Jolie's two most popular topcoat products: Jolie Finishing Wax and Jolie Varnish. We'll cover the pros and cons of each product, along with product tips and answers to commonly asked questions.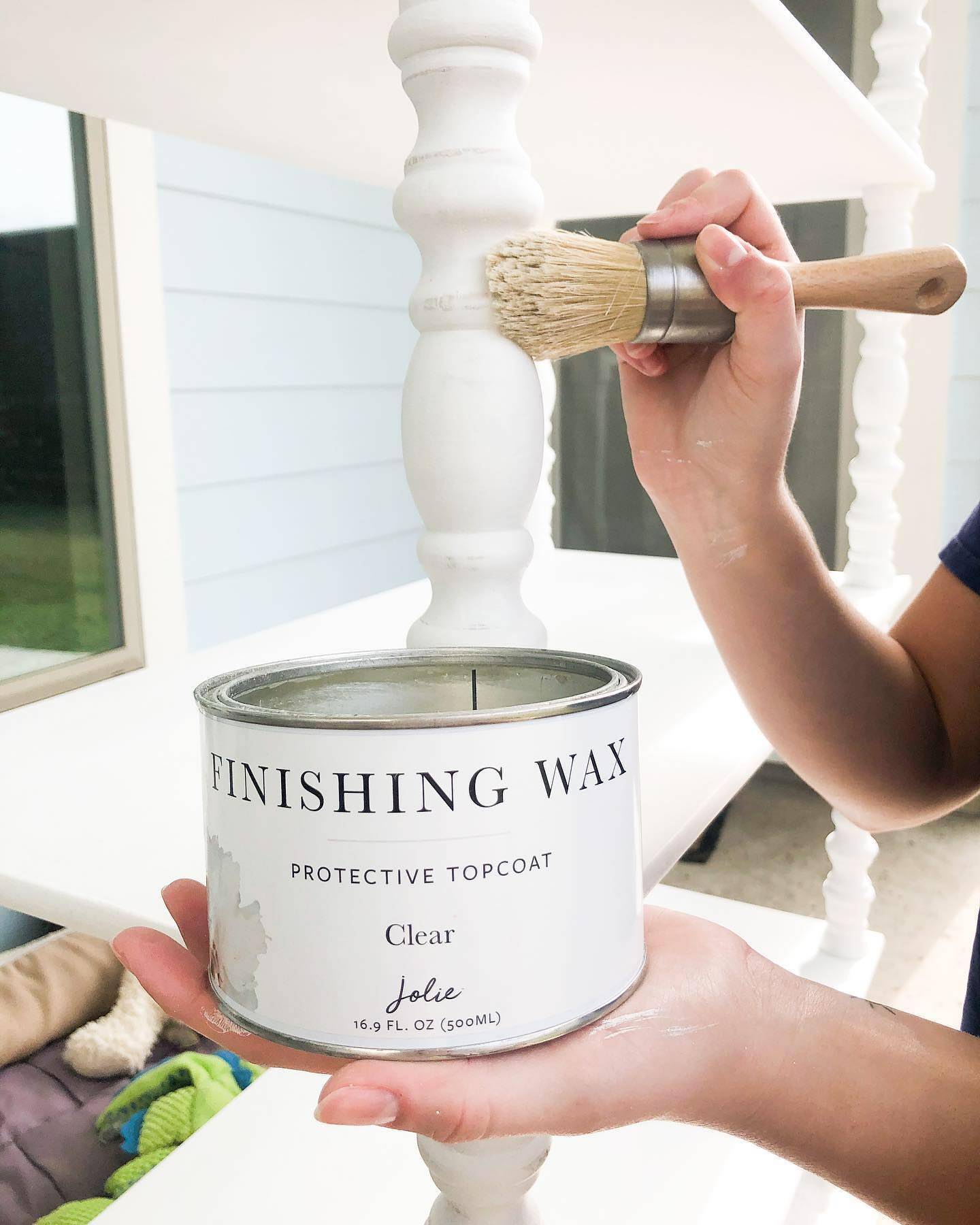 ---
Application
Both Jolie Finishing Wax and Jolie Varnish can be applied on interior surfaces that have been painted with Jolie Paint, raw or stained wood, or other painted finishes. Finishing Wax is recommended for interior use only, while Jolie Varnish can be used both indoors and on protected exterior surfaces. We do not recommend Finishing Wax or Varnish be used on floors, food-prep surfaces, such as countertops, or in areas that are regularly exposed to sitting water, as neither topcoat is completely water-proof.
Note: For floor projects, we recommend using Jolie Floor Varnish. Check out How to Paint Floors with Jolie Paint for details.
Finishing Wax has a soft, paste-like consistency, no odor, and can be applied with a Wax Brush or a soft, lint-free cloth. Varnish has a liquid consistency, a slight odor, and can be applied with a synthetic bristle brush, like our Flat Brush, a low nap roller (we like to use a Mohair 3/16"), or a sprayer. Both products require at least two coats for optimal protection. Finishing Wax should be allowed 1-2 hours dry time between coats, while varnish takes slightly longer at 4-6 hours.
When working with varnish, you'll want to clean your brush or application tool well between uses since it will ruin your brush if left to dry. Wax brushes do not need to be washed between coats.
Ease of Use
There is a bit of a learning curve when it comes to working with wax. Using too much wax or too little may cause your finish to look uneven, particularly when working over darker paint colors. However, Finishing Wax is extremely forgiving, making it easy to go back and fix any mistakes. Most issues with wax can be corrected by either applying another thin coat to even out the finish, or buffing the surface with a textured cloth or steel wool to remove excess wax.
Varnish offers a great alternative for those who haven't quite mastered finishing wax or who prefer to work with a liquid topcoat. It brushes on smooth, but does requires a more careful application to avoid drips along edges and pooling in recessed areas. Once it's dry, it can be difficult to fix mistakes without sanding and re-coating. Especially if applying Jolie Varnish to large surfaces, like table tops, you'll want to make sure your brush or roller stays wet with product and avoid going into already dried areas in order to prevent drag or over brushing.
Varnish is also going to be more prone to stains or bleed-through issues than wax when used over certain wood surfaces. As the varnish dries, it can pull tannins from the wood, causing orange or pinkish stains to appear in the finish. When working with varnish over wood surfaces, we recommend doing a test spot before painting the entire piece. If you notice any issues, seal with shellac or a stain blocker before painting.
Color and Finish Options
Finishing Wax is available in four colors: Clear, Black, Brown and White, which can be used to create a variety of different finishes. Wax can also be tinted with Jolie Paint to create custom wax colors.
Jolie Varnish is available in clear only and should not be mixed with any other pigments. Wax should not be applied over varnish, so if you want to achieve a look similar to what you would create with colored finishing waxes, you should plan to do so by layering different Jolie Paint colors. Jolie Extender provides a great option for creating glazes on surfaces sealed with varnish.
Wax provides a velvety matte finish, which means it's great at hiding imperfections and brushstrokes. While wax can be buffed to a soft sheen, it's going to remain pretty matte and is best for projects where you're looking for a more natural, hand-painted look.
Varnish is available in two sheens levels: Low-Luster and Gloss, making it great option for projects where you want a bit more shine. Low-Luster has a slightly higher sheen than wax, but is still relatively matte, while Gloss is going to have the highest sheen of all Jolie topcoats. Unlike wax, which really absorbs into the paint, varnish is going to sit on top of the paint and give you more of a "factory" type of finish.
Because the Gloss Varnish reflects more light, it will also make any brushstrokes or imperfections more visible, so if you're going for a more sleek, modern finish, be sure to follow our Tips for Applying a Smooth Finish or consider using a roller or sprayer for a more even application.
Durability & Maintenance
When it comes to durability, Jolie Varnish is considered more hard-wearing, although both wax and varnish are quite durable once cured. As a rule, topcoats with higher sheen have greater durability, so you'll find Jolie Gloss to have the best durability, followed closely by Low-Luster.
Although Jolie Wax isn't quite as durable as varnish and may dull over time, it does have the benefit of being able to be easily touched-up. Simply add a bit more wax to remove scuff marks or apply a fresh coat over the entire piece to revive a dull finish.
As discussed above, varnish isn't quite as forgiving. Once dry, the only way to fix mistakes or damage to your varnished finish is to sand back and re-coat.
Keep in mind that both topcoats take time to fully cure and harden. The cure time for Finishing Wax is about two weeks, while varnish can take up to 30 days. Always be extra gentle with your finish for the first few days while the curing process begins.
Compatibility with Other Products
Other topcoats, including Jolie Varnish, cannot be applied over wax, so if at any point you want to refinish your surface, be sure to either repaint before re-coating with a different topcoat, or remove the wax finish using mineral spirits.
Jolie Varnish may also alter the hue of some white paint colors, particularly those with yellow undertones, such as Antique White and Palace White, making them appear slightly warmer. If using Jolie Varnish over these colors, we recommend doing a test spot first to ensure you are happy with the final result.
---
We hope you found this guide helpful for selecting the perfect topcoat for your project! Refer to our How to Use page for additional tips and instructions.
---