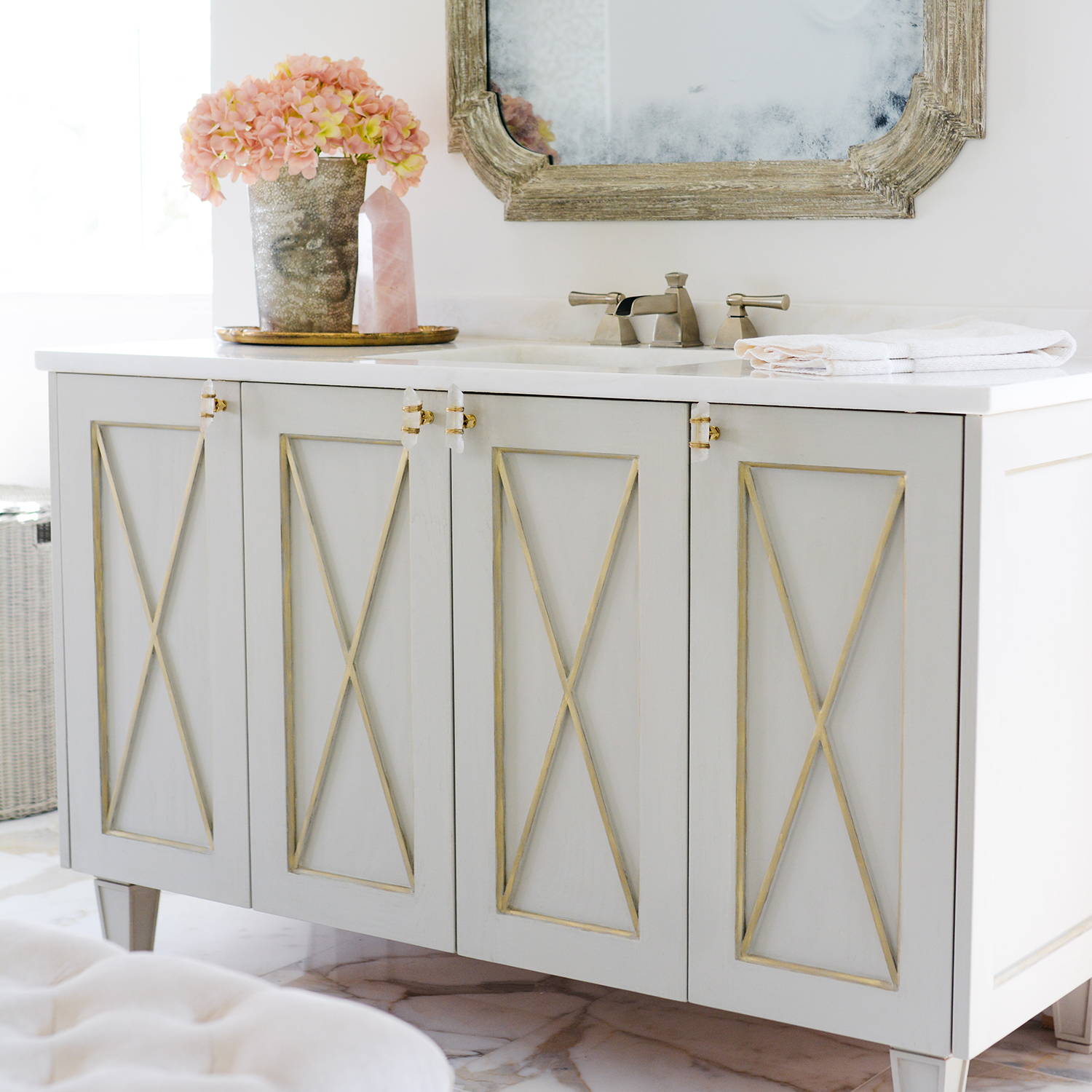 Painting your bathroom vanities, cabinets or built-ins is an easy, inexpensive way to make the space your own. Whether you have old, outdated cabinets or are looking to upgrade to something more custom, Jolie products offer a great solution.
When our founder and CEO, Lisa Rickert, was designing her master bathroom, she turned to Jolie products to give her vanities an elevated, coastal look. Lisa couldn't find pre-built vanities that worked for the project, so she opted to have them custom-built by a local cabinet maker. On the main vanities, Lisa selected elongated, shaker style doors with a beveled edge and X-pattern detail, and for the dressing vanity, which lives in its own separate nook, Lisa chose similarly styled drawers.
"The walls are painted Palace White, so I knew I wanted a neutral that would offer some contrast to the wall color, but still feel soft and understated," Lisa said of the project. She ended up selecting Swedish Grey, which pairs beautifully with the marble floors and weathered wood mirrors. "I also highlighted the styles and rails with a Dry Brush Finish to create depth in the slightly darker center."
After sealing with Jolie Finishing Wax in Clear, Lisa felt that the door still needed something to give them that elegant wow-factor - she opted for Jolie's easy to use Gilding Wax. "Our Gold color worked perfectly with the mixed metals of the champagne colored light fixtures, the satin nickel plumbing fixtures, and the satin brass door hardware used through the home," said Lisa. "You literally rub our Gilding Wax on with your finger tip and bam - it's an immediate glow up! I had so much fun with this project and really love the way the bathroom turned out." Read on for more details on how Lisa achieved this look!
---
Absorbent lint-free cloths
Paper Towels
---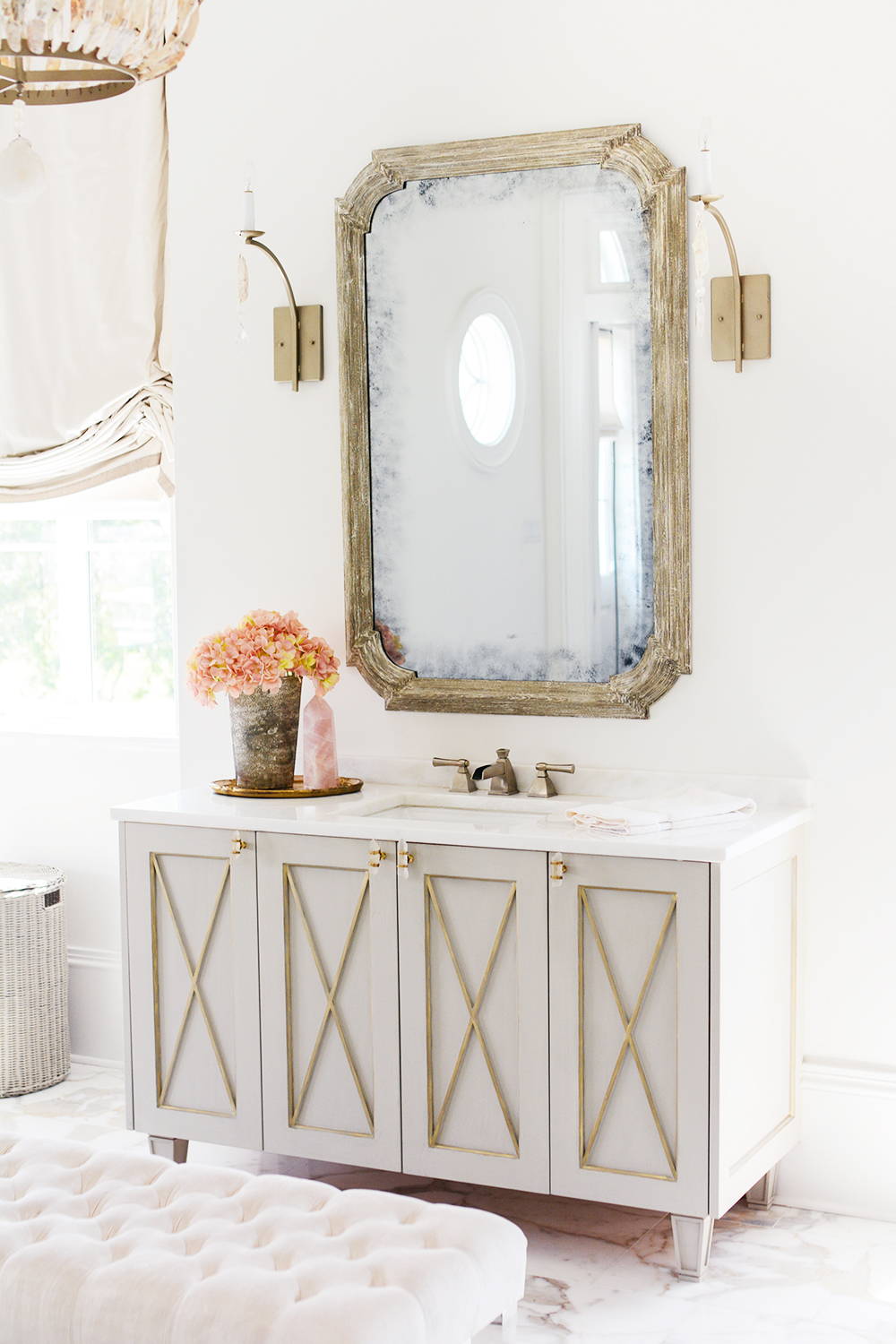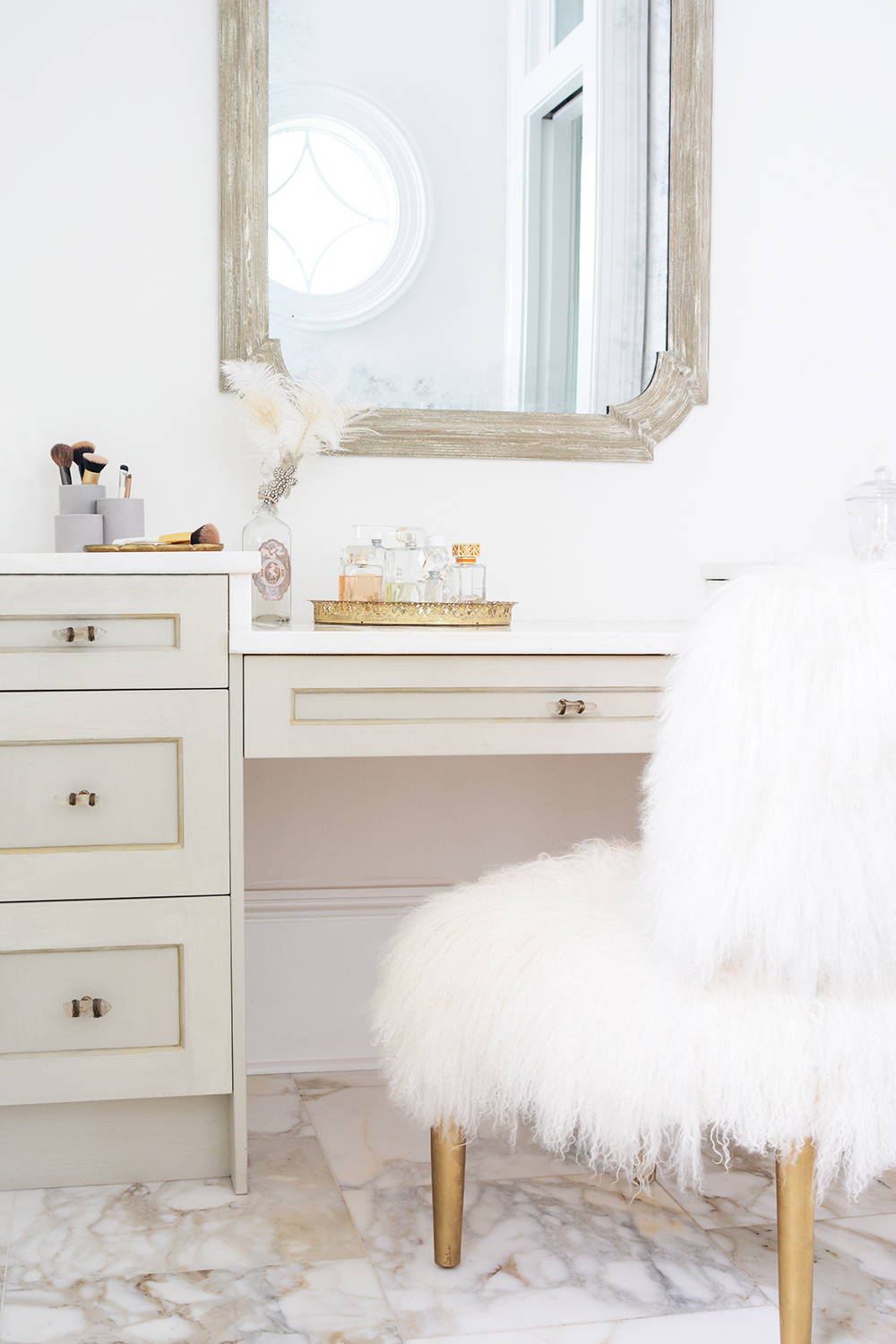 Step 1
Remove or tape off any hardware, then apply two coats of Jolie Paint in Swedish Grey to doors and frame, allowing paint to dry completely between each coat. We recommend using a Jolie Signature Brush to apply a Basic Finish, which will give the surface a slightly textured, hand-painted look. If you wish, you can remove the doors before painting, just be sure to properly label each panel and its corresponding hardware so that you reinstall each component to its proper place.
Step 2
Pour some Swedish Grey into a separate container, then add a little bit of Gesso White to lighten the color slightly. This mixture will be used to create a Dry Brushed effect, giving your finish a bit more depth.
Step 3
Apply a small amount of the Swedish Grey-Gesso paint mixture to your brush (we like using a chip brush here), offloading any excess on a paper towel so that there is very little product remaining on your brush. Gently apply the paint to the stiles and rails of each cabinet door using a cross hatch motion to create a subtle, slightly textured look. Allow to dry.
Step 4
Using a Jolie Wax Brush or clean, lint-free cloth, seal everything with 2-3 coats of Jolie Finishing Wax in Clear. Check out our Tips for Waxing Your Project for details on how best to apply wax.
Step 5
Apply Jolie Gilding Wax in Gold to any beveled moldings or raised edges that you would like to highlight. Gilding Wax can be applied with your finger or a small artists brush.
For more detailed instructions on painting cabinetry, refer to the Jolie Cabinet Guide, our step-by-step guide for cabinet projects both large and small.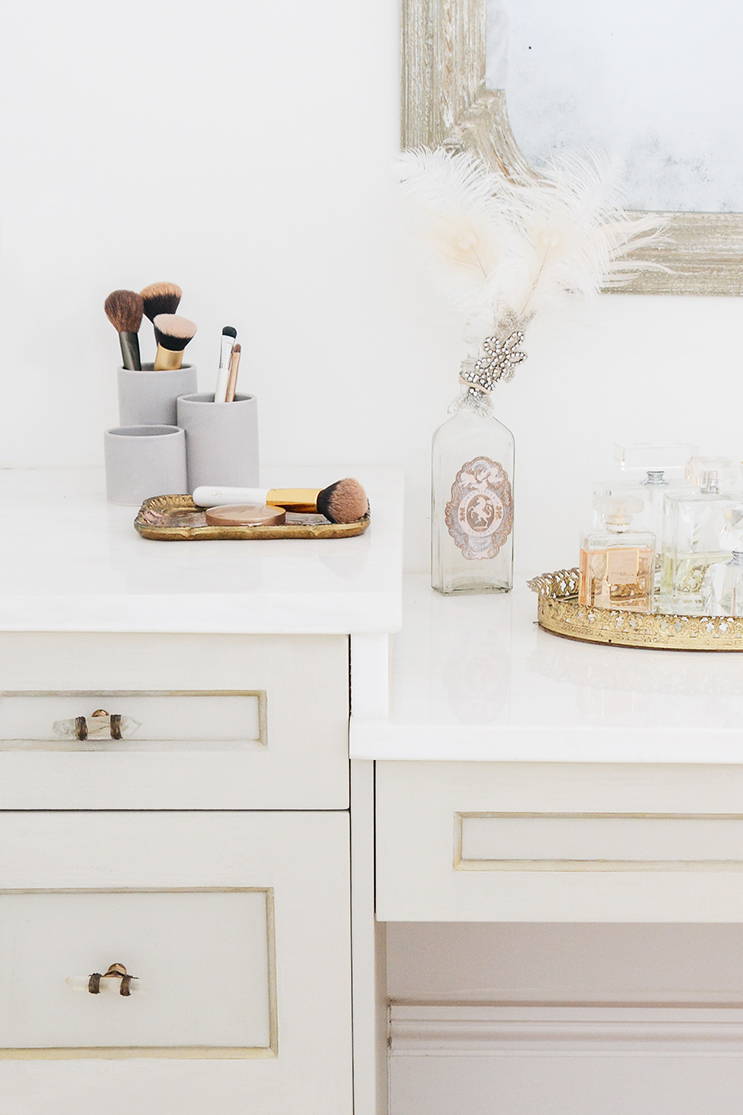 ---