Some people call us crazy because we are building our 3rd home in 10 years. I am not going to lie– it is stressful! It takes a lot of time, organization, and creative energy, but I love it. Each one of our homes has been different. This new one is an expression of things we have learned from the past, layered with a fresh style and design aesthetic. Certainly there are common threads that run through each project, like the use of stucco on the exterior or the use symmetry and classic design.
My husband Scott and I used to build a house and tell our kids, "This is our forever home." We have learned that you shouldn't be so matter of fact about the future. We now say, "We plan to live there for a long time!" A home should feel right for your family, and as your life changes, sometimes your home does too. Each one has been exciting, different, and has served our family well.      
I love to share information that can help others, which is why we have such free flow of information through Jolie Home. I am often asked "Can you help me?", "Where do I begin?", "How do you know what you want in a home?" So if you are asking yourself that same question, follow along with our #RickertResidence series as I share our journey designing and building a custom home. I do not proclaim to be an architect or licensed general contractor, but I am happy to share what has worked and not worked for our projects.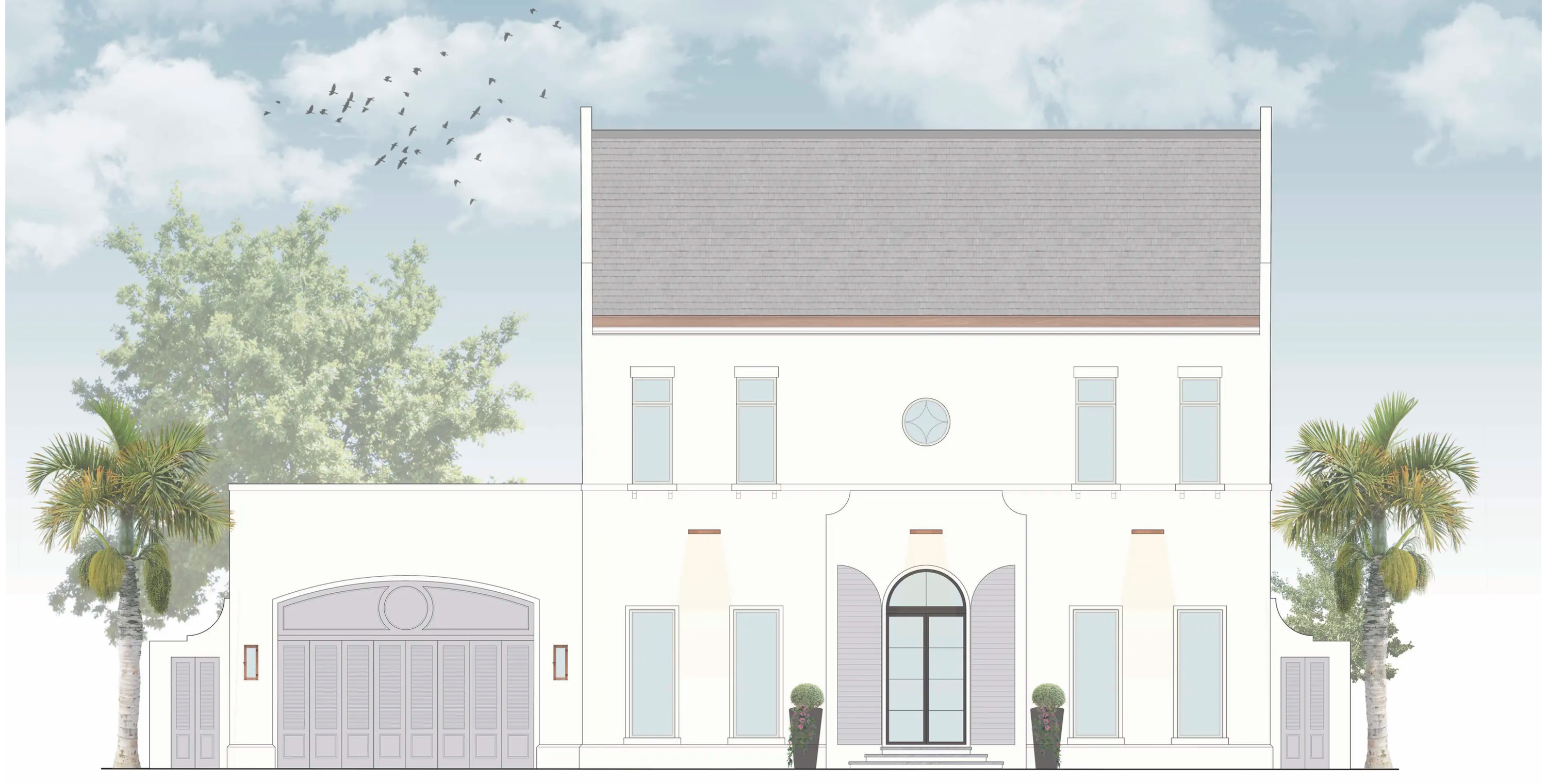 The first step to building a home is conceptualizing the design. For me, it always begins the same way. I sit down with a piece of graph paper and start to lay out a floor plan. Follow the steps below to give you a framework of how much space you have to work with.
1. Decide the total square footage that you are shooting for and decide if you want a one-story, two-story, or three-story home. It may be helpful for you to consider the price per square foot that most homes are selling for in your area. Always shoot at least 25-30% lower, because when you are building there will be MANY unexpected costs.
2. Draw your lot size on the graph paper. If you can count 1 square (grid) as 1 foot, that is ideal. If not, then do 2 or 5 feet per square depending on the size of your land.
3. Mark your setbacks (yard size) on the front and sides of the home. This will vary by city or state, so if you do not know, look up the building codes for your area. Most of this information should be readily available online. For example we have a 75' wide x 150' deep lot, and we are required to have 5' on each size of the structure and a minimum of 20' in the front according to city code. If you know you want more room on the sides of your home then the required setbacks, mark that dimension instead. This will help determine the maximum width of the house.
4. Take your total desired square footage and divide by the number of floors.
5. Divide the quotient again by the desired width of the house to get the approximate length of your home. Obviously this assumes your home is a perfect rectangle and most are not. In fact, it is important to design some interesting dimension to the house or at the very least, some surface relief on the exterior. However, this will give a a good ball park for the space you have to work with.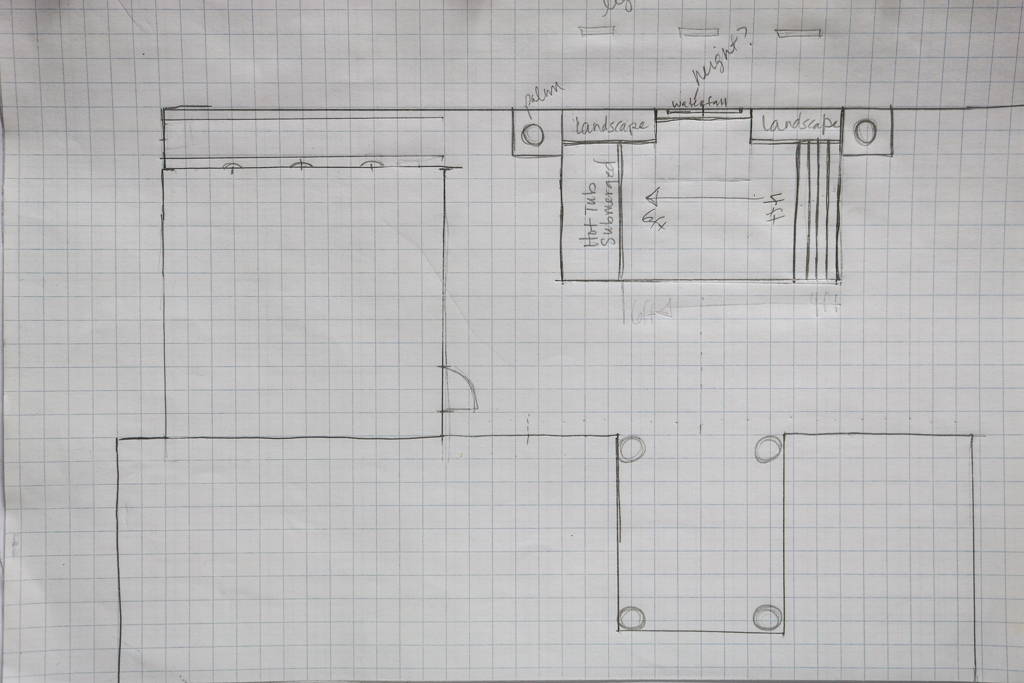 Partial sketch of plot plan to scale
Think about the rooms that you want to have, making a mental note of which ones are necessary and which ones would be "bonus." Consider the way you want to flow through the house. How do you want to be greeted when you walk in? Do want want a separate foyer, or would you prefer to walk directly into another room? Which room do you want to exit from? Do you have any outdoor living space that you would like to make visible or accessible? How close do you want bedrooms to your entertaining space? And most importantly, do you want a symmetrical or asymmetrical exterior– meaning, do you want a mirror vision on both sides of your front door?
Start putting some rooms down on the graph paper. Measure the bedrooms, living room, kitchen, closet, and bathrooms in your current home and determine if you like the size. Do you want to make them the same size, bigger, or smaller than your current spaces? Always work with pencil so that you can erase A LOT! Your first drawing will not be your last. You should plan to make numerous changes to the design as it evolves.  
Initial sketches of 1st Floor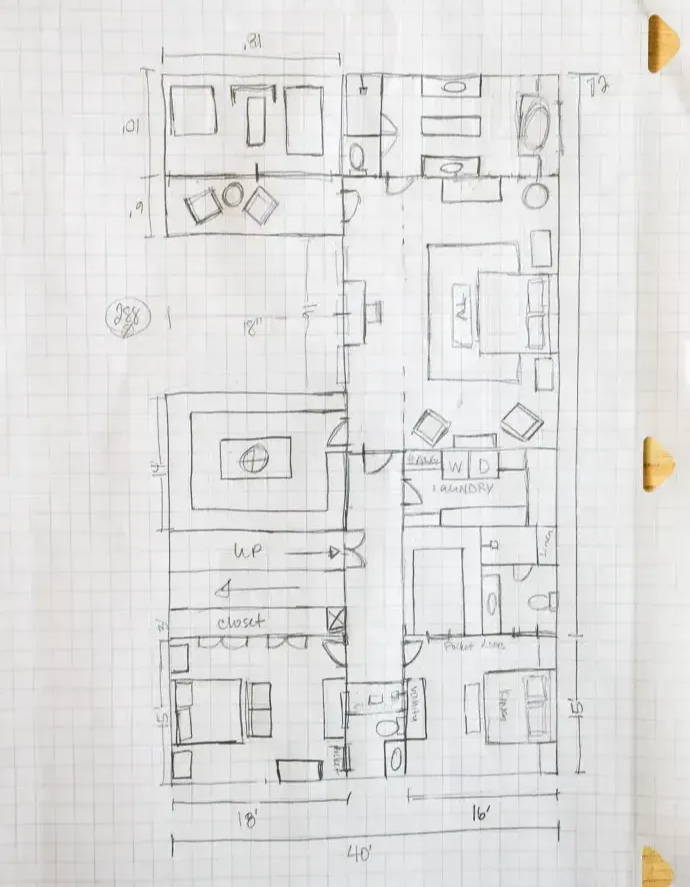 Initial sketches of 2nd floor
If you are having fun sketching and thinking through your ideas, you can start to take sections of the house and expand on your design. I always do my own cabinet layout because no one knows how I use my kitchen when I cook better than me. You can see my pencil marks were erased and redrawn several times. Allow yourself to change you mind often and explore various options. I promise the more you change, the better your design becomes. When you have nailed it, you will feel it your gut and just know its right. In the sketch below, I started laying out a similar design to our former kitchen because I LOVED many things about it. Just yesterday, I came back to the drawing to modify the island. I wanted to see if everything would fit on the two long sides of the island so that we could cover the short sides with a waterfall countertop design. I was thrilled to confirm that it does.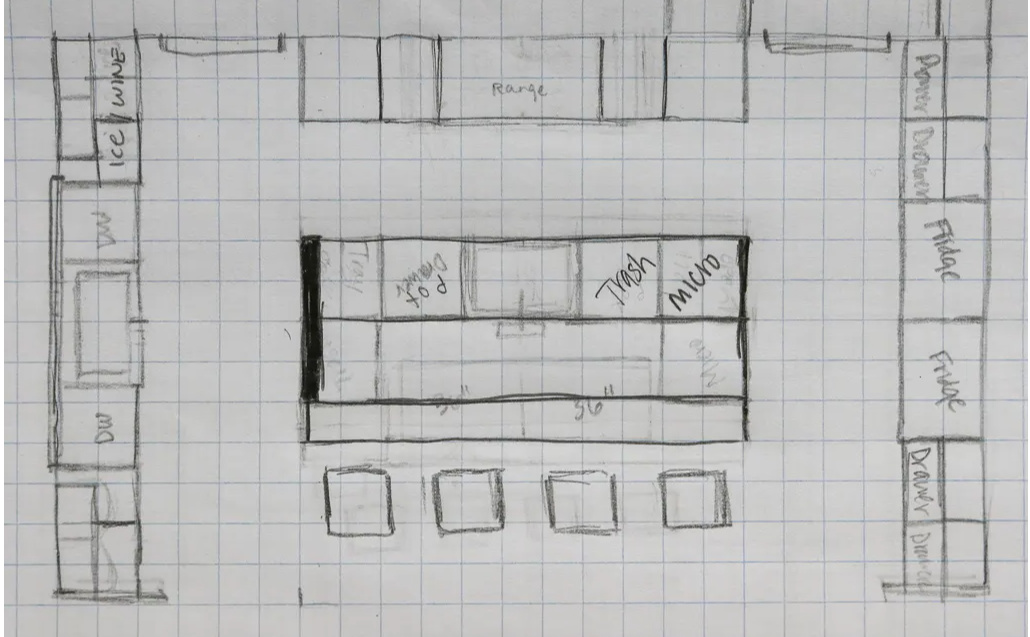 Initial sketches of kitchen and cabinet layout, which will be turned over to the cabinet maker.
You can also sketch an elevation drawing, which is the 2-dimensional drawing of a wall. I like to really see what I am working with, so I try to sketch these for all of my main focal areas of the house. For the kitchen it is the range and hood design as it faces the living room in an open floor plan concept. I like to stack elevation drawings to save time (see below). If you do this, you can use the lines from the measurements above and carry it up or down. I ran out of room on my graph paper to fully express the second version, but I know it's a winner – hence the star!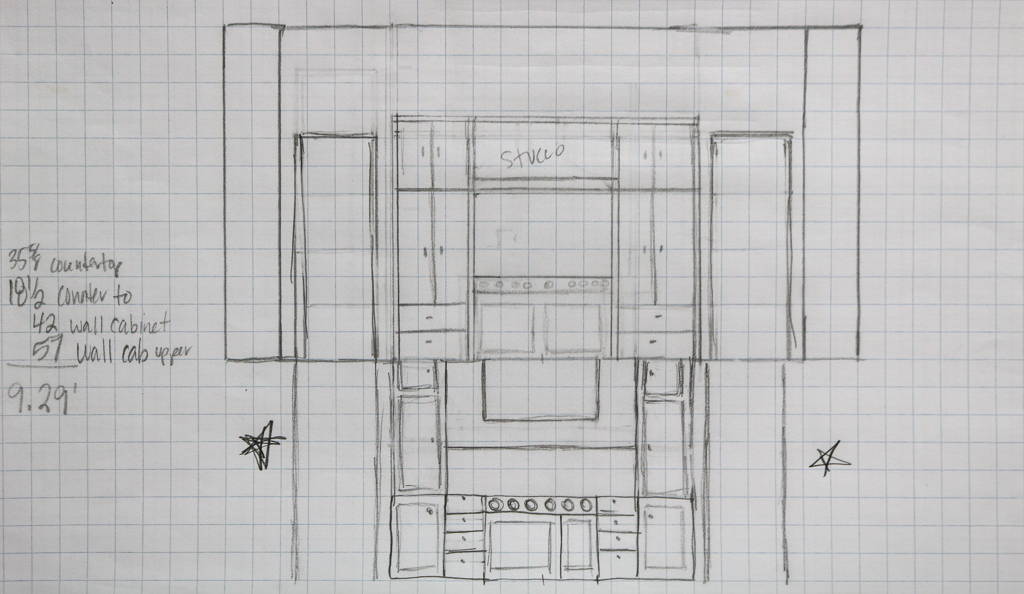 Wall elevation in the kitchen
All of this work is to help you conceptualize what you love in a home. You should not plan to be your own architect or engineer because putting a floor plan design on paper is not the same as figuring out the roof design and structural load of a home. Your sketch will speed up your design phase with your architect. You will go into the meeting already confident in knowing what you want in your new home. Share with them your sketches and explain the points that are important to you. For example, "I want all of the bedrooms upstairs" or "I want the master downstairs." Another example may be, "I want the living room opening up to the backyard because we entertain often." I will often overlay furniture to scale so that I can make sure the floor plan actually works.
Once you turn your wonderful ideas and dreams over, breathe – and wait for their first draft of schematic designs. Give your architect the room to develop the plans. Let your designs evolve. After all, that is what you are paying them for: their expertise. Just remember what the deal breakers are for you, and check as many boxes as you can.  
In my next post, I will talk about working with architectural designs, making changes, and finalizing your house plans. I will also get into identifying your architecture and design style and making sure to carry that through the home. Do you gravitate toward traditional, transitional, farmhouse, or modern style interiors? If you have no clue, take the Jolie Style Quiz to help you along. I hope you continue to follow our journey to build the new #RickertResidence, and most importantly, I hope that I can help you learn some of the dos and don'ts of designing and building the custom home of your dreams.  
xx,
Lisa
---